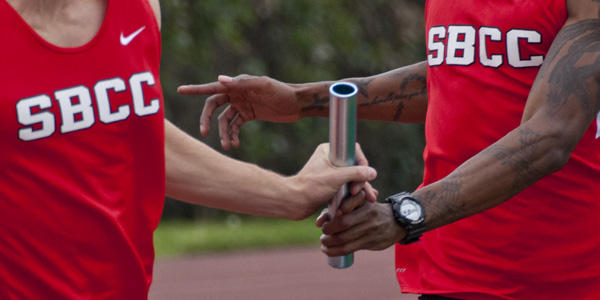 Despite the cold temperatures and foggy sky, the Vaqueros swept the Easter Relay meet with a total of 10 first place victories.
The 77th Easter Relays, held at La Playa Stadium Friday, March 15, included seven teams: SBCC, Ventura College, Allan Hancock College, Cerritos College and two four-year universities Westmont and Bowdoin College from Maine.
City College runner, Cody Bidlow was the top performer of the day with three separate first place finishes in the 100 meter dash, 4×100 meter Relay, and the 4×200 meter Relay.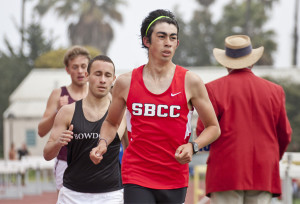 "This is the last time I'm gonna be running at SBCC on our home track," said Bidlow, a third year student and second year athlete at City College. "It was cool to go out with a win."
Other individual first place finishes include: Kathryn Rucker, with a final score of 1.53m in the women's high jump, and John Nealon, with a time of 4:18.69 in the 1500 meter run. Ian Roberts, with a time of 15:16.78 in the 5000m run, and Aaron Meteski with a Javelin throw totaling 52.36 meters.
City College also dominated the relay races, with first place finishes in the Women's 4x800m Relay and the Men's 1600m Sprint Medley, in addition to the Men's 4x100m and 4x200m Relays. With times of: 10:11.60, 3:36.54, 42.49, and 1:29.14 respectively.
"Our times weren't quite what we know we can run," Bidlow explained.  "We know we can do a lot faster. But the conditions being a little chilly, a with a little bit of a headwind, it kinda slows you down."
Other outstanding performances include: Nicole Bartlett, who finished second in the 1500 meter run with a time of 5:01.18, only one second behind the leader Maggie Baker, and Tyler Jefares who brought in two second place finishes in the men's long jump and triple jump, with a score of 5.88m and 12.55m respectively.
The Vaqueros have been hard at work since September, training for the WSC state conference meet that will be held May 17-18 in San Jose. Most of the athletes on the team believe that a state conference title is definitely in the cards for the men's team this year.
On Friday, March 1, City College competed in their first WSC conference track of the season in Ventura, CA. The men's team came back with a first place seating, and the women's team third. The Vaqueros also scored another seven wins on Friday, February 2, in the WSC Relays at West L.A. in Culver City. The Vaqueros defeated Cuesta 162 – 128 on Saturday, February 16 in a dual meet, racking up six event wins with four of those wins resulting in meet-record times.
Ryan Rupcich, one of the assistant coaches of the track team, believes that the team as a whole is right on track for where they want to be in the season. "Each meet we've gone to they've all improved slightly," said Rupcich. "We're definitely training for them to peak at bigger meets later on in the season."
The Easter Relays is the only home meet that will be held at City College this season, and it is not scored for the team's standings in the WSC conference. Relay meets usually include many teams and have lots of competition. However, the date of the Easter Relays was a week earlier than usual this year, and this caused many teams to have to miss the meet. The lack of competition made it a much more casual track meet overall.
"This isn't a very important meet," explained Rupcich. "I wish it was more important. But the athletes are doing exactly what they're supposed to be doing, showing the will to compete."