Men's volleyball to begin season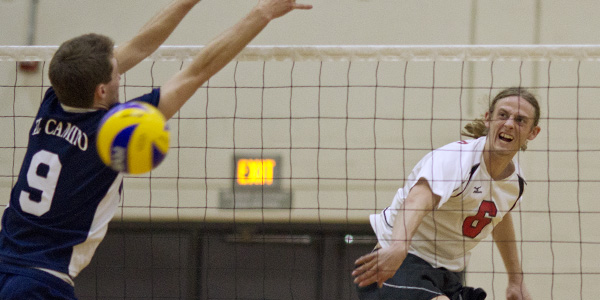 The regular season for men's volleyball is about to begin at City College and by the looks of the team's pre-season stats, they could have a great year ahead of them.
Head coach, Armen Zakarian, said the team is very well balanced, and has a good chance against the other 13 teams in the Southern California men's volleyball league.
"There are no easy matches in our league," Zakarian said. "Every team is great all the time. If you don't play your best, you can find yourself on the losing end."
The Vaqueros have taken their share of losses during the pre-season, coming out with a 3-4 record to begin league play on Friday, March 1, 2013.
While a 3-4 record to start the season isn't the best, Zakarian believes the losses will only heighten the energy and effort the players brings to the game.
The first pre-season game was against Irvine Valley College on Jan. 30. City College crushed the first two matches but it ended with a 3-2 count. The scores were 18-25, 19-25, 25-22, 25-20, and 15-13.
The Vaqueros dominated with a 3-1 count in its matches against Orange Coast College and Grossmont College. Sophomore Dakota Smith (outside) recorded 17 kills, eight digs and four aces in the first match, and another 10 kills and two aces in the second.  Teammate Drew Hogan (setter) had 44 assists and three blocks against Orange Coast and two back-to-back aces against Grossmont.
Feb. 6 the team faced Golden West College in Huntington Beach, and the final score was 3-0. Feb. 9, City College played Palomar and San Diego City College, and came back with one loss (3-2) and one win (3-0), respectively.
"When you go into a fifth game its kind of one of those 'anything goes' situations," Zakarian said, referring to the Palomar match.
"The fact that we were on the road in the fifth game didn't help us. The point is more that we had a chance to win. We could have gone 4-3 or 5-2 and that's nice to hear."
The final match of the 2013 pre-season was against San Diego Mesa College on Feb. 13 and City College came back with their final loss, a score of 3-0.
City College will open the season with a home game on Friday, March 1, against El Camino College at 6 p.m.
"We had our ups and downs during the pre-season," Smith said. "It was a good learning experience for early on, and it's only going to make us better throughout the entire season."