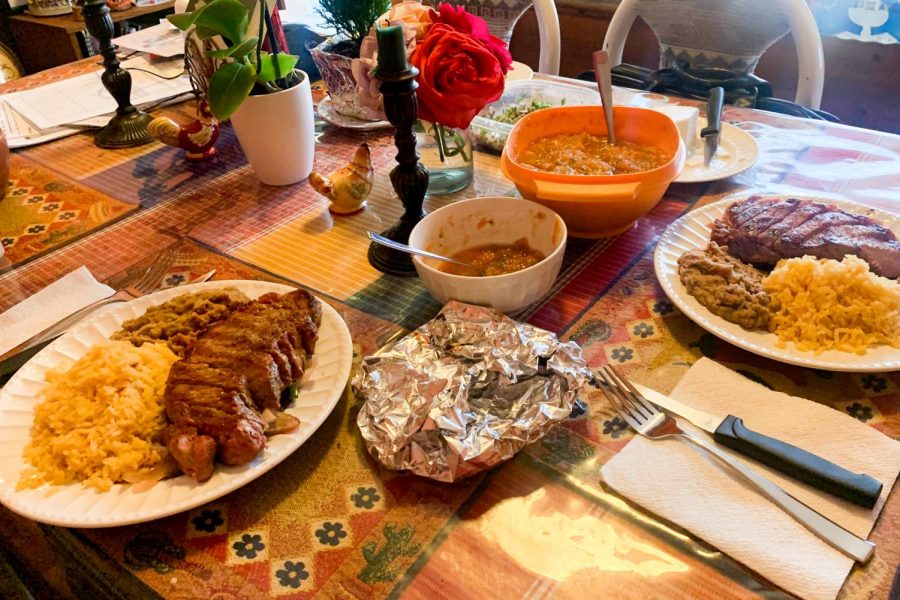 Rodrigo Hernandez
With cabin fever settling in after a month of lock down, I find myself keeping busy and trying to find the fun in the day-to-day life with my family.
In the mornings I like to make a fruit smoothie for breakfast, and lunch is usually whatever I throw together from what's in the fridge.
In the evenings it's the sizzling of a beautiful cut of New York steak, mixed with the fragrant smells of caramelized onions and garlic.
Cooking has been a vital part of my quarantine experience, and I get to do it with my dad. 
Cooking has brought us closer together. It brings a serene end to stressful days. 
Dinner is a great opportunity for me to learn classic recipes while my dad and I can de-stress. He vents to me about his busy day at work, and I keep him in the loop with what I'm up to. 
So far we have been making staple Mexican dishes like sopes, mole poblano, pozole, carne asada, tacos dorados, tacos de al pastor and loads of rice and beans.
We also enjoy switching it up from time to time by making pasta dishes like penne marinara with chicken or cheese-filled tortelloni. 
Although it's just me and my dad cooking, there are a few people who rent out the other rooms in our house. Before the quarantine, we never really spoke much, just "hello" and "good evening" out of politeness.
After a couple weeks of the stay-at-home order, my dad decided to make one of his favorites: pozole. He used a very large pot and although it was delicious, it was definitely way too much for the both of us. In fact, we ate pozole for three days after that.
That night while we were cleaning up, he told me that he would like to give some pozole to the rest of the housemates. 
So, he got the pots, plates and garnishes ready, and it was up to me to prepare and serve the pozole for the housemates in the morning. 
There is a great sense of gratification in sharing a meal with someone, and it resulted in having a closer relationship with the rest of the housemates. 
Simple acts can make big differences. Especially during times of hardship, it's the little things that count. 
With families having to stay inside, cooking is a great way to bond and pass the time. Even if the people in your household have been irritable, the process of cooking is inherently meditative and allows you to distract yourself for a while. No one can deny the comfort that a home cooked meal brings, and this comfort is especially needed right now.
It's also an opportunity to try new recipes, or improvise with what you have in the house if you are unable to make the trip to a grocery store.
For me, not being able to plan my life around a strict schedule of school and work has caused a lot of personal imbalance, and has demolished my sleep schedule. 
Being able to ground myself through cooking, is a luxury that has brought gratitude, satisfaction and a sense of normalcy back into my life.