Trustees review current state of SBCC employee equity, diversity
A report during the Nov. 18 Board of Trustees meeting showed that City College still has work to do with fulfilling its commitment to equal employment opportunity.
Vice President of Human Resources Michael Shanahan presented the Faculty and Staff Diversity Annual Report showing the college's strengths and weaknesses regarding a diverse and equitable workforce for the student population.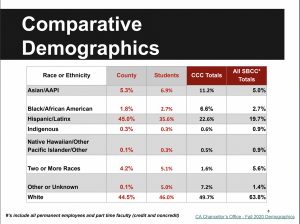 "If you look across that bottom row [labeled White], you will see that in any of these services, that bottom row number by far exceeds any of the others. That is our challenge," Shanahan said about employee demographics.
Since Board Policy 3420: Equal Employment Opportunity passed in 2014, Shanahan has led the EEO Advisory Committee as well as developed an EEO plan which includes its annual reports. He said the committee also reviewed employment procedures and refined the complaints process. All of these efforts follow the college's pledge to provide an "inclusive environment to best prepare students to succeed in a global society."
The report showed different aspects of the college's demographics, including gender identity and ethnicity among others.
The college has a 53.4% and 46.6% split between female and male employees.
When it comes to the number of employees by race, the HR vice president said the college's demographics show most employees fall into the white category.
However, Shanahan said the college is a "predominantly bicultural organization," especially being a Hispanic-serving institution. He also noted there are a significant number of Black/African American and Asian/Asian American and Pacific Islander employees who tend to be administrators, adding to diverse leadership.
For full-time faculty, the college meets its goal by having 4.1% Black/African American employees for 2.7% of Black/African American students. Shanahan said there's room to grow for Asian/Asian American and Pacific Islander groups —  4.9% permanent employees for 6.9% students.
When looking at total employees — including part-time faculty — compared to students, county residents and California's Community College system as a whole, there is a broader picture of similarities and discrepancies between them.
"In most community college districts, your primary feeder pool for your full-time tenure track people are people who have been working part-time because you know they can do the job," Shanahan said.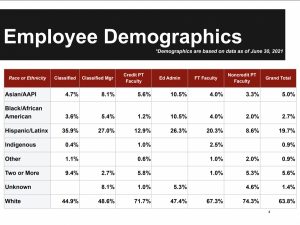 City College has 19.7% Hispanic/Latinx employees for 35.6% Hispanic students, although the county has 45% Hispanic residents. California's Community College system has a total of 22.6% Hispanic faculty. 
"The system at large has the same challenges that we do. That doesn't make me feel any better that we're not alone, but these challenges are very significant for us," the HR vice president said. 
Employee retention was also looked at. The majority of faculty stay for 5-10 or 15-20 years, which generally reflects hiring cycles.
To increase equal employment opportunity, the college's 2020 accomplishments included launching an SBCC Jobs Facebook Page and starting recruitment client surveys and employee exit interviews to test the hiring managers and committees on the process's efficacy.
The college will change its applicant tracking system to NEOED. This program allows blind screening and removes personally identifiable information like age, gender, name, race or anything else that may trigger unconscious bias. Shanahan referred to a survey that showed resumes with white-sounding names received twice the responses as ethnic-sounding names.
Moving forward, City College is planning to begin a new marketing process for hiring, including video testimonials as well as a rebranding of HR's mission and values. 
The Board of Trustees will reconvene on Dec. 16 for its Annual Organizational Meeting.