News Briefs: La Playa reopens to public, Atkinson Gallery pop-up
With so much happening around the City College community, The Channels would like to offer a single place for the most important information. We'll be compiling a weekly list of current and upcoming events to keep readers up to date on campus news.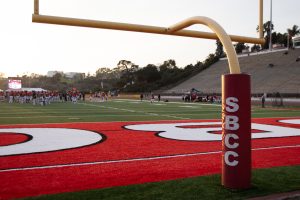 – After being closed to the public throughout the pandemic, La Playa Stadium's track and stairs reopened to the public on weekends and holidays on Saturday, Nov. 20. Along with weekends and holidays, the track will be open Friday, Dec. 3 and Dec. 10 from 5 p.m. to 10 p.m. Starting Dec. 11, both the track and the stairs will be open daily through the end of winter break, ending Jan. 9. 
Public hours for the spring semester will be announced at a later time. 
– On Nov. 12, three City College students presented their entrepreneurial ideas for the "Scheinfield Get REAL Shark Tank" competition that the Scheinfeld Center hosts every year. Elvis Idunate presented "Texas Tacos," Steven Benavidez presented "Argonauts Tactical" and John Harmon presented "Oil Slick Adhesive Remover." Harmon took the win with his "Oil Slick Adhesive Remover."
– The Atkinson Gallery presents their newest exhibition, "Structure & Skin" which began on Nov. 16. All work in the pop-up show is from students in the fall 2021 Art Department curriculum covering introductory to advanced sculpture fabrication. The pop-up show will run until Nov. 23 in the Humanities Building, Room 202.

– On Monday, Nov. 15, City College was notified of an individual who tested positive for COVID-19. The individual is known to have been on campus Nov. 8 and Nov. 10 from 8 am to 9:30 am on the third floor of the Earth & Biological Sciences building. If you suspect to have been exposed, fill out the healthy roster survey immediately. Stay up to date with the current case number with the City College's COVID-19 Dashboard.