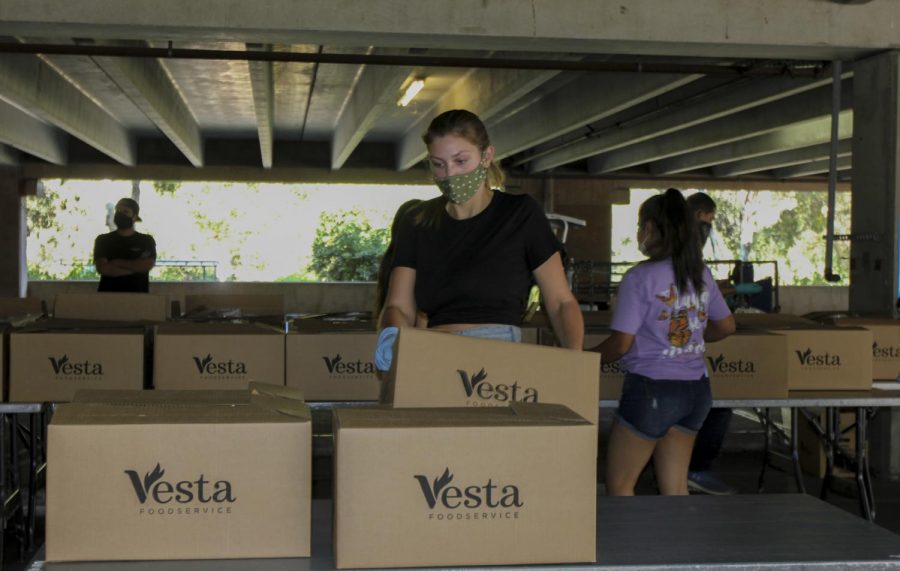 Madeleine Sydkvist
City College's Food Pantry will be offering eggs, dairy products and fresh produce in addition to their regular non-perishable items during October.
Eighty-six boxes were given out in less than one hour during Wednesday's distribution. Each box included milk, cheese, eggs, yogurt, chocolate milk, vegetables and fruit.
The Santa Barbara Food Bank will continue to provide the Food Pantry with perishable products for the rest of the month, along with the boxed and canned goods that they regularly supply.  
"We're calling these the 'five-star boxes' because in the past we got non-perishable…canned food, pastas and things of that nature," Equity Student Program Advisor Alondra Lazaro Gonzalez said.
Each box also contained hygienic care packages prepared by Rebecca Bean, student program advisor at The Well.
Bean regularly supplies packages of feminine products, toothpaste, toothbrushes, soap, shampoo, and dental floss for the distribution events.
The Food Pantry drive-thru and walk-up distribution is held every Wednesday at 2:30 p.m. at the West Campus Parking Lot 5-1, and continues until all of the boxes are given out. 
The volunteers who help organize these weekly distributions adhere to COVID-19 safety guidelines, and make sure they keep themselves and the public safe by wearing masks and gloves.
There is one designated person who opens the car door, and another person who places the boxes in the back of the vehicle to keep the process "zero contact."
Prior to COVID-19, the pantry was open Monday through Friday. Now they are open once a week but have plans to open up another day to distribute food.
The pantry is a valuable resource to those experiencing food insecurity from the effects of the pandemic.
"We really want to make sure we are equitable and that everybody has the opportunity to get food at some point," Gonzalez said.
The Food Pantry does not turn anyone away.