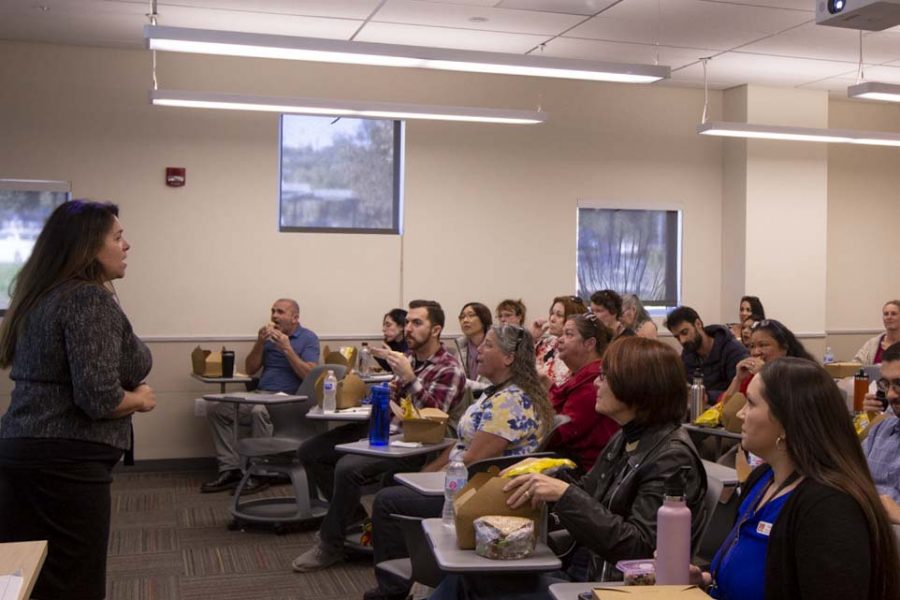 Desiree Erdmann
What do we do when we don't know? 
This seemed to be the prevailing question at Tuesday's "LGBTQ+ 101 Seminar."
Various City College faculty and staff crowded into the West Campus Center Room 121, ready to learn how to properly navigate today's ever-changing sexual climate.
Hosted and presented by the UCSB Resource for Sexual and Gender Diversity, the seminar was intended to educate and create a dialogue founded on mutual respect for queer and trans students.
"Its OK, people mess up all the time," said Quinn Solis, RSGD associate director. "As long as they can tell you're trying."
Solis, who uses they/them pronouns, understood that conversations about LGBTQ+ can make some people uncomfortable. They hoped to overcome this social stigma through open-minded dialogue and informed reasoning.
This was the first staff meeting of its kind although plans are in motion to host more said Kirsten Mathieson, administrative assistant for the office of communications at City College.
"We've talked about doing this for about a year now," she said.
Mathieson also said she was glad for the great turn out and looked forward to an even greater attendance next time.
Solis and Craig Leets, RSGD director, held group activities and questionnaires examining stereotypes surrounding LGBTQ+ culture. 
"The root 'Trans' implies movement and change," Leets said giving an example of the difference between transgender and cisgender. " 'Cis' means on one side."
Leets and Solis asked staff for their opinions on issues such as gender versus sexuality. 
"Queer used to be a derogatory term," told Leets. "Today, it's an umbrella that's widely used."
Solis explained how easy it is to mistakenly label an individual as 'female' just because they have long hair and wore a dress.
"Gender is fluid, but identity is always valid," Solis said.
"Don't make invasive accusations," said Leets, who uses he/him pronouns. "Just because someone looks like a male doesn't mean they identify as one."
Solis suggested that teachers be the first ones to open up the discussion in the classroom when it comes to introductions.
"For example," Solis said reading from the board. "Hi, my name is _____ and my pronouns are _____. What's your name and what pronoun do you prefer?"
One resource of up to date and non-offensive terms that Leets suggested is mypronouns.org.
Assistant English Professor Annette Cordero said she was glad she attended and that these issues need to be talked about on a grander stage.
"Don't wait for others to speak up for themselves, spread the word!" said Leets. "The more people with a common definition the better."