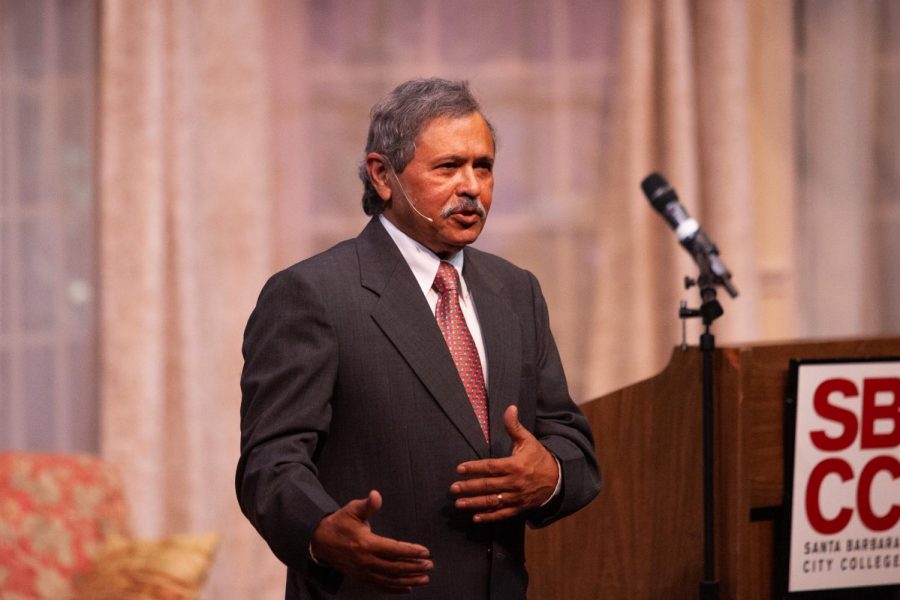 Nate Stephenson
The Board of Trustees announced Friday that it has unanimously selected Dr. Utpal K. Goswami as City College's new superintendent-president following an eight-hour closed session.
The board met at The Kimpton Goodland hotel in Goleta to interview the two final candidates and make a decision.
Immediately after the marathon meeting, Board President Robert Miller announced the selection. The Channels was the only media present.
"Dr. Goswami brings a depth of experience, and we are certain that he will move Santa Barbara City College forward," Miller said. "He is a proven leader with a commitment to students and their success. We are confident that he will build collaborative relationships on campus and in the community."
The nationwide search included a Screening Committee who chose two finalists, Goswami and Dr. Kenneth Lawson, from the 45 applicants to present and answer questions at a public community forum on Thursday. The Board of Trustees then held final interviews with both candidates the following day.
Goswami is currently the president of Metropolitan Community College-Longview and has over three decades of experience in higher education throughout Missouri, California, Texas and Arizona. He also holds a master's degree in development economics from Boston University, as well as a master's degree and doctorate in economics from Southern Methodist University.
Goswami will be taking over for Helen Benjamin, who has been leading City College as interim superintendent-president after former Superintendent-President Anthony Beebe abruptly retired last spring.
This new superintendent-president will face a $3.2 million structural deficit, racial tension and hate crimes, and housing issues.
Goswami's selection is subject to contract negotiations. The Board of Trustees is expected to approve the contract at its next regular meeting on Nov. 14 and Goswami will officially assume his position in early January 2020.