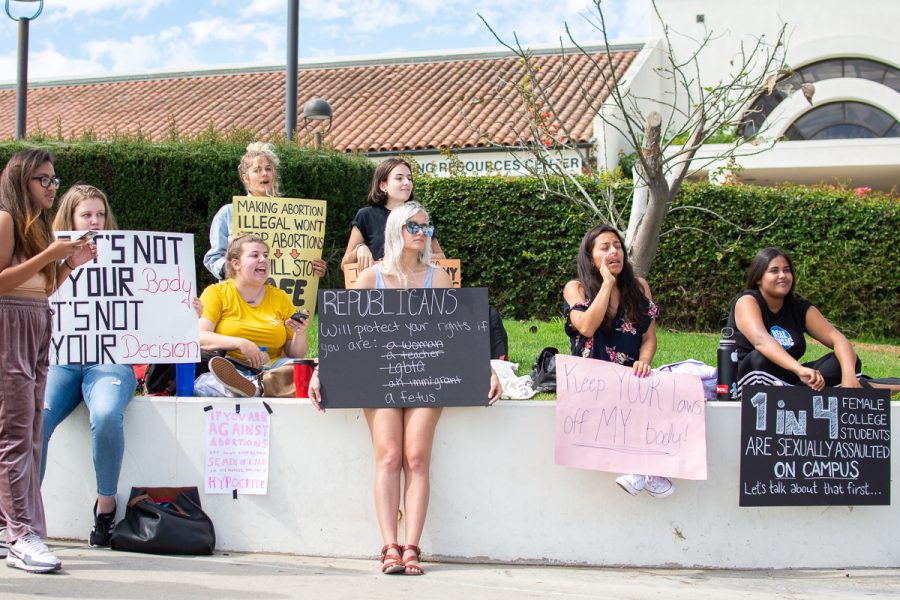 Alejandro Gonzalez Valle
Pro-choice students gathered in front of the Luria Library Tuesday afternoon to protest a display of large photographs a pro-life group's members said were aborted fetuses.
"We don't really care if they're here spreading their opinions and everything," said Emma Ljungberg, one of the first protesters. "We just want the pictures taken down because they're very inappropriate for a college campus."
The protesters would cheer as students passing by ignored or occasionally waved a middle finger at the pro-life group and between chants like "my body, my choice." They encouraged passerby to sign a petition asking for the pictures to be taken down.
Tuesday marked the second day the pro-life group, Project Truth, came to City College displaying their images and passing out pamphlets, but the first day there was a group of protesters.
Another protestor, Breanna Minnick, said the pictures should be taken down because they could be triggering not only for students who have had abortions in the past but also students who may be going through that.
"We're trying to have a healthy, safe community here at city college and we want to be able to enjoy just trying to get to a class without having the frustration of these photos while we pass by them," Minnick said.
Minnick also said many student protesters were upset because some Project Truth members had told students abortion is worse than rape.
One of the demonstrators, Minnick said, had told her that taking Plan B, an emergency contraceptive pill, makes one a "killer."
Sophie Scholl, a demonstrator from Project Truth, said rape and abortion are both "evil," but the group would agree that when "somebody dies" they would consider that worse.
Scholl also explained why they choose to display the visuals, referencing Dr. Martin Luther King Jr.
"We use them because we truly believe in what Dr. King said, 'injustice must be exposed in all its ugliness.' He likens it to a boil that needs to be brought out into the light and to be cleaned out and so we're a firm believer in the power of pictures."
According to Scholl, the pictures of the alleged fetuses are from abortion clinics and are shown to "abortionists," a term she used to describe doctors who perform abortions, who confirm or deny in their professional opinion the authenticity of the photos from a pro-life website
The protesters were not part of any group on or off campus and many of them merely saw the protest and joined in and while they were protesting the graphic images, showing a sense of community and togetherness.
"People will stop by and say 'I had an abortion, this makes me feel better about myself,'" said protester Lluvia Salas. "This is like actual community."