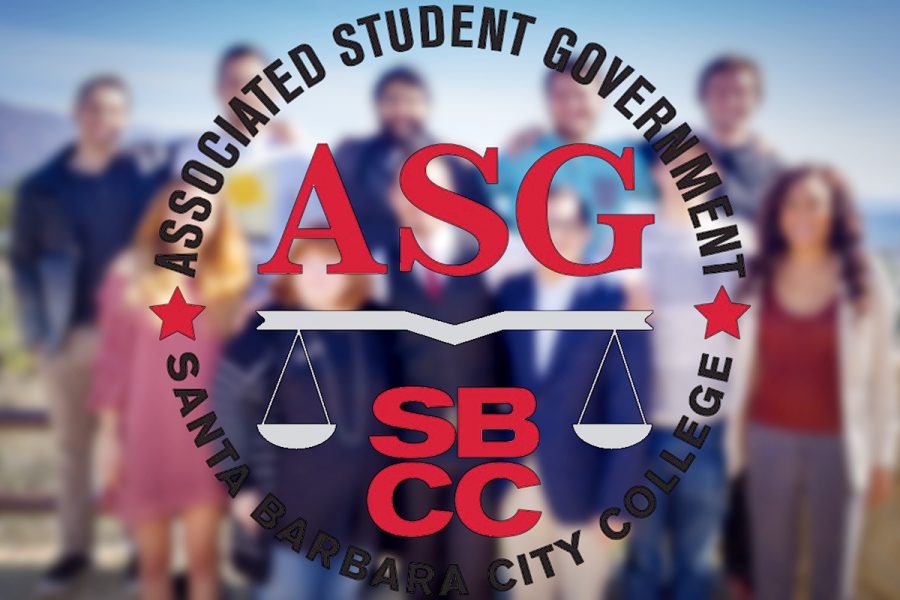 James Von Essen
Candidates vying for a position on student government answered questions Thursday in a debate designed to help voters decide what candidates are the most qualified for their respective position.
Voting for the student government election is currently open to all City College students, and will last until 4 p.m. Thursday, April 26. Voters can cast their ballot online at http://www.sbcc.edu/vote. There are also three referendum measures to vote on: One about whether City College should maintain its contract with the Metropolitan Transit District, the second about whether the student activity fee should be increased from $5 to $10, and the third about whether student government members who qualify for a Board of Governors (BOG) fee waiver should receive stipends.
The debate was co-hosted by The Channels and the current student government. The moderators Katie James, Opinion Editor, and Sydney Antil, student senate beat reporter, both from The Channels, asked their questions to the candidates running for President and for Vice President of External Affairs.
Current Commissioner of Marketing Kenyon Newhouse made introductory remarks, and outgoing Vice President of External Affairs Matthew Esguerra presented a brief history of City College student government and made remarks about the referendum measures before the candidates answered questions.
THE PRESIDENTIAL CANDIDATES
The candidates running for President—Alan Morales, Nelson Roosendahl, Hannah Truckenbrod and Josh Villanueva—were asked the first questions in the debate. One of the questions was: "What is the most pressing issue facing our campus right now and what do you believe should be done about it?"
"I think there is a food insecurity issue," Morales said. "As someone who is food insecure, this issue matters to me a lot."
Morales went on to state if elected he would advocate for more food options in cafes on campus, and expand the Food Pantry.
Truckenbrod said she believes there is not enough communication between students and the student government.
"I think students are intimidated by student government. . . I don't think people tell the government what they think can be improved and what can be fixed."
Her suggestion to tackle this concern is to put suggestion boxes around campus so people can write-in their ideas and opinions on various matters for the student government to view.
For Roosendahl, the big challenge on campus is maintaining City College's high ranking.
"In the last four years we've been rated the number one community college in the nation by various institutions," Roosendahl stated. "The target we have is to stay as great as we are."
Roosendahl also mentioned parking congestion and study space access as issues on campus. To increase study space access, he proposed extending the library hours during the week and on weekends.
Villanueva focused on student housing.
"The biggest obtainable issue is the student housing issue," Villanueva said. "I know of a lot of students that are homeless."
Villanueva added that he supported Assembly Bill 1995 during his time in student government, which allows students in the homeless community to shower at City College provided they fill out a form at Sports Pavilion Building Room 206. He said he intends to identify the number of City College students who are homeless and reach a long-term plan to best serve them.
Among the presidential candidates, Villanueva is the only one to have previous experience in City College student government with multiple years under his belt, but Morales has had political experience as a City Council member in Madison, Wisconsin, and as the student body president of his high school.
THE VICE-PRESIDENTIAL CANDIDATES
After the presidential candidates were asked their final question, the candidates fielded questions from the audience and then gave their seats to the candidates for Vice President of External Affairs—Autumn Rose Castro and Vanessa Vera.  (See article V, section 3 of the student government bylaws for a full description of the responsibilities of this position and other positions on student government).
One of the questions asked to the candidates was what skills they had to represent City College students effectively at statewide conferences and events, one of the responsibilities of the position they are running for.
"I am currently an intern for congressman Salud Carbajal and a volunteer for assemblywoman Monique Limon," Castro said. "Doing this, I have learned to be much more proactive and assert myself respectively but also strongly."
Vera talked about the experiences she has that she believes will assist her in conducting outreach.
"I have been a part of business clubs and business conferences. . . so I feel pretty confident in being able to talk to different forms of people in order to outreach for us," Vera said.
The second of the three questions tested the candidates' engagement with state-level issues: "What state-level issues do you believe City College should take a stance on or adopt at a local level?"
"One state issue that City College has already taken a stance on but needs to further their efforts in is sustainability," Castro said. "For us to be able to hone all the equality and civil rights that we should have as a community, we need to be comfortable in our own community as well.
"When you're just worried on surviving, you're not thriving."
"One of the movements that we've started is embracing gender neutral bathrooms," Vera said. She expressed that there should be more of them distributed throughout the school district.
After intermission, the candidates fielded questions from the audience, and Newhouse thanked everyone for participating in the event.
Voting for the student government election is currently open to all City College students and will last until 4 p.m. Thursday, April 26. Voters cast their ballot online at http://www.sbcc.edu/vote.
Correction: April 25, 2018
This story includes a correction to a previous version.