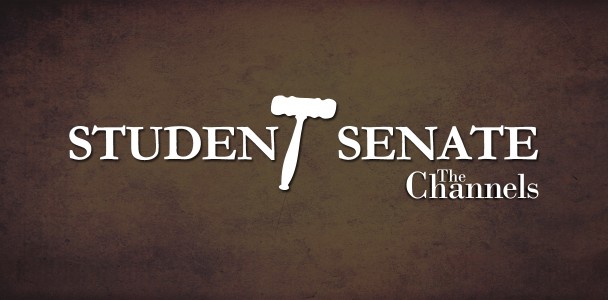 The Associated Student Government met Friday to discuss the vegetarian-only food policy at its sponsored events, and the installment of the $8,000 female product dispenser in traffic-heavy female bathrooms.
The group jokingly poked at each other for their support of the obscurity of a policy such as vegetarian-only food options. Matt Esguerra said that he couldn't believe that he had to "succumb to the tyranny of veganism."
On a more serious note, Esguerra said, "I think we need to take a step back and see who we are really representing. We're not representing ourselves, we're not representing our causes, we're not representing our movements, we're representing students.
"Proportionally the vast majority [of students] are meat eaters, so by laughing at this, ignoring this, you're ignoring students. You're ignoring the people you were elected to represent."
Nick Hofstatter, head of the Sustainability Committee, is the one who initially proposed the policy and made some notable claims.
"Meat is a luxury. We don't require meat to survive," Hofstatter said. "We can survive off of other types of protein.
"There is a lot of data that shows if we switch over to a plant based diet your risk of getting gastrointestinal cancer decreases by about 22%."
Hofstatter's committee focuses heavily on crafting the tough encroachment toward a plant-based- diet, mostly because of environmental reasons.
"Our mission statement says our global responsibility is to make dry stick changes that can actually make a difference in the world," he said, "but as much as I'd like to see this whole campus go vegan, but I don't think that it's going to happen." He added that he didn't plan to.
The officers plan to vote on this contentious item next week. They also plan to vote on the item that involves the $8,000 tampon dispenser.
One of the student government's three females, Krystle Farmer, made sure the group was letting women in on the discussion because it affects them. The board decided to move the logistics of the installation about whether the machines will dispense free of 25 cent tampon and maxi pads to committee meetings.