SBCC student senate fills 7 key positions, doubles its size
The Associated Student Government held interviews today to fill seven important vacancies on the senate.
Senators voted in a two-thirds majority to appoint a new secretary, Isla Vista representative, commissioner of clubs, student advocate and three senate officers.
"I am thrilled with our new senators and officers," said Dylan Raiman, student senate president. "I'm excited to see what they accomplish in the coming months."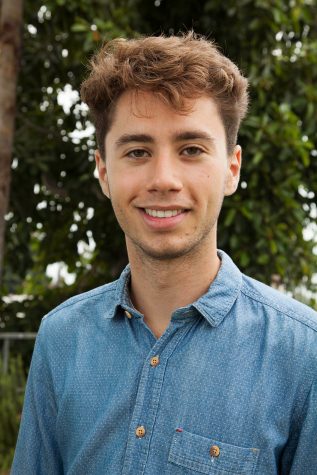 The senate was in need of additional members as key positions were left empty after last semester.
The main issue the prospective senators addressed was the lack of interest and knowledge students had about the senate.
"I really want to make sure that the students are involved," said Abraham Obudulu, newly appointed student advocate and a transfer student from Tennessee State University.
Obudulu was out of school for a while, but his interest in academics was reignited after realizing the opportunities school can give him.
"If you want to get students involved you have to get them riled up," he said. "You have to find a way to appeal to them."
The Isla Vista representative position was nearly dissolved after last semester, but after consideration amongst the senators they agreed to allow someone new fill the position.
"There's only been one person who has served the position," said Raiman, referring to Ethan Bertrand, former Isla Vista representative. Bertrand is now running for a seat on the I.V. Community Service District board of supervisors and will be on November's ballot.
Kevin McCabe, a second year student at City College and Isla Vista resident, was appointed to replace Bertrand.
"Some say the position was actually created for him; tailored to what he wanted," Raiman said. "People were concerned that since it was made for one person, is it going to work for another person."
The senate stressed that although McCabe will have to represent the senate in Isla Vista, making it to Friday morning meetings will be mandatory and absences from senate meetings will not be acceptable, which is
something that was an issue last semester.
"I'm filling some big shoes. I'd really like to continue a lot of the projects he was working on," said McCabe. "I'd like to really work on issues, such as housing. But my main concern is cleaning up the community as far as the environment goes."
McCabe also wants to find new ways to address and help the City College's homeless student population. He was an avid supporter of assembly bill 1995, which was signed by Gov. Jerry Brown this past Wednesday. The bill allows homeless students in good academic standing to shower at community colleges.
"I see a lot of potential talent and I'm really excited for our new senate," said Josh Villanueva, vice president of internal affairs.