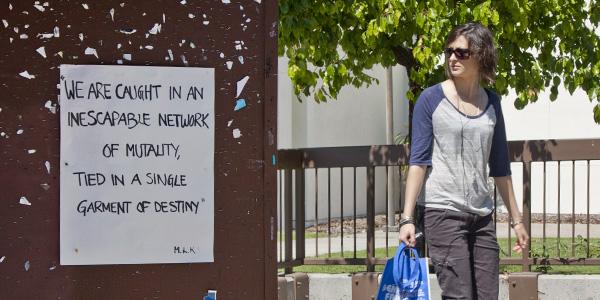 18 17:35:00
All signs posted on kiosks were removed and replaced with unauthorized Martin Luther King Jr. posters by unidentified vandals on two campus locations.
Periodically, postings are removed during the night, but this is the first time the kiosks on East and West Campus have been completely emptied of approved signage.
"We've had people take down stuff from the kiosks, but never cleared off both kiosks," Amy Collins, student program advisor said. "They were wiped clean."
The approved signs were replaced with white poster boards on Tuesday, April 16, a day that coincides with the 50th anniversary of Dr. King's historical letter from Birmingham Jail.
"They weren't offensive in any way. We took them down only because they didn't have approval to be there," Collins said. "I don't know if it's related, it appears to be random. Usually students ask for permission before posting on the kiosks."
In an unusual turn of events, the perpetrators then disposed of the torn-down signage in an odd manner.
"This was a kind of a deliberate random act," Collins said. "Instead of using the garbage can that's nearby, they put them into a shopping cart and pushed it off the embankment near West Campus."
The kiosks were vandalized again on Monday, April 22.
Students who would like to post information on campus kiosks can contact the Office of Student Life for approval.
"After the posters come in, we approve them. They must not include any information promoting drugs, sex, or alcohol," said Cindy Salazar, administrative assistant. "They are then posted by our staff on the boards."