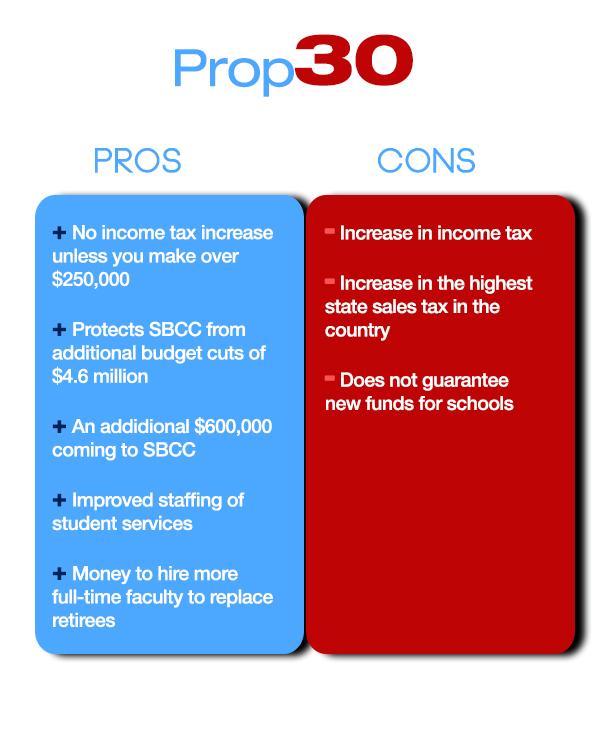 If Proposition 30 does not pass in the Nov. 6 ballot, California schools and colleges face $6 billion in budget cuts, this year.
Without the proposition, the college faces a cut of over 200 sections, a loss of over 1,000 students in enrollment, a loss of on-campus student jobs, further reduction of critical support staff, and additional cuts to critical student support services. The Santa Barbara Community College District Board of Trustees, the Academic Senate and Student Senate all approved a resolution this month in support of the proposition.
"We set up our budget assuming it wouldn't pass," said Joe Sullivan, vice president of business services at the college. "Our adopted budget is our worst case scenario."
Proposition 30, the Schools & Local Public Safety Protection Act, will temporarily increase personal income taxes on those with incomes over $250,000 per year and increase sales tax by a quarter-cent for four years.
The proposition is not likely to provide any additional funding for education, but would prevent multimillion-dollar midyear cuts. If legislation passes, the college's revenue will increase by a $4.6 million workload reduction and by $600,000 in available growth and restoration. If the act fails, revenue will remain constant, but expenditures will be reduced, resulting in a $600,000 loss.
"Even if it doesn't pass, we will be better off," said Sullivan of Prop 30.
Sullivan says he most looks forward to some stability on campus if the proposition is passed.
"We will know how many sections we can offer," said Sullivan. "We will know, with more predictability, what the budget will hold."
This past year, the college faced significant mid-year cuts. The state mandated a deficit factor for the college, cutting $1.6 million in Jan.
"You're halfway through your year, and all of a sudden you get a reduction," said Sullivan. "But it doesn't reduce the number of full-time equivalent students you have to produce. So how do you absorb that?"
Sullivan said the college was able to absorb the reduction with reserves, but reserves only last so long.
"We need the state to become solvent before we run out of our reserves," he said. "That's our goal. How's that for a simple goal?"
David Morris, assistant professor in the history department, said the college has courses on standby that will be offered for the 2013 spring semester if the proposition is passed.
"I think bottom line is, if it passes, things stop getting worse and start getting a little bit better," he said.
Morris is in favor of Prop 30 and hopes to see changes on campus in upcoming semesters.
"One of the most difficult things this fall is to have to say no to so many students simply because there isn't money," said Morris. "Many students don't understand that if I enroll more than (x) amount of students in my class, [the school] has to pay me more but [the school] doesn't have the money to pay me more so I can't add the extra students."
Recent poll results have prop 30 at a 51 percent approval rating.