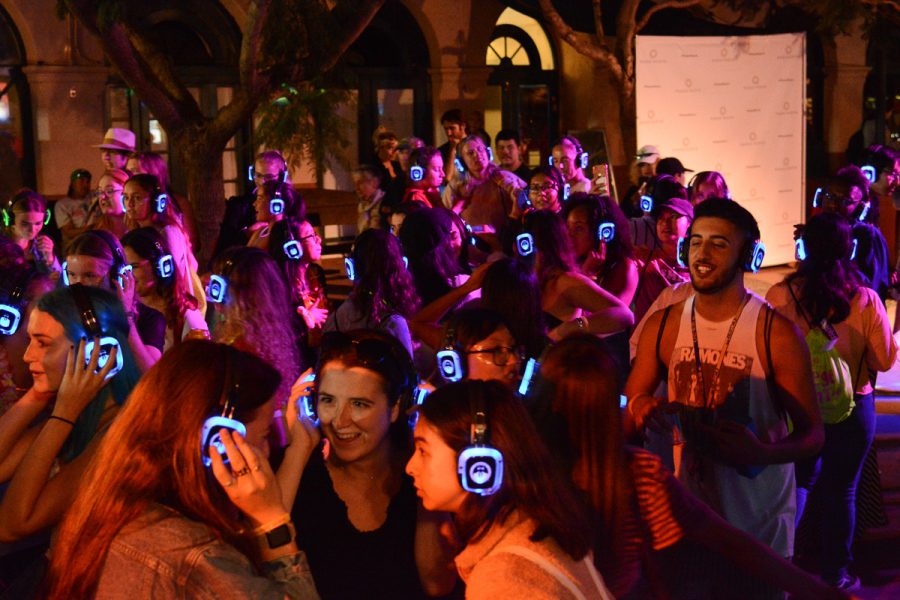 Kevin Ham
Dozens of students flooded the Paseo Nuevo Mall Tuesday night to dance in a silent disco as they celebrated the new semester at the "College Night Out."
The mall was lit up with strobe lights while students from UCSB and City College gathered around different booths such as Aveda, Paseo Nuevo Cinemas, Solstice Sunglasses, Saje and Victoria's Secret offered free goodies for visitors. 
The first three hundred students to arrive were offered bright neon green backpacks filled with coupons, beauty products, and free samples from different shops around downtown Santa Barbara. 
The event catered incoming and current freshmen to give them a fun start of the semester. 
"It's almost like a friendship orientation where you can get familiar with the people and town," said City College student and Saje representative, Justin Macias. 
The event offered a silent disco in which almost every student danced the night away wearing colorful, lit up headphones as they sang along to "Truth Hurts" by Lizzo and "Hollaback Girl" by Gwen Stefani. 
This is the fourth year that City College organized the night and plan on continuing the tradition. According to Mary Lynn Harms-Romo, the marketing director of  "College Night Out," they decided to revive it four years ago after stopping for a while as a welcome event to all of the new students. 
Sephora's booth was one of the most popular of the night with girls and boys constantly lining up to get their face painted with glitter, based on the theme "Euphoria," a new television series that was released this summer on HBO. 
Besides makeovers, free products, and gift cards being given out, restaurants such as 805 Boba, Eureka!, and PizzaRev all offered discounted or free drinks and meals for students participating. 
"This is a great opportunity for students," said Indigo Morrow, representative of the L'occitane booth. "It's a space where many can mingle and socialize to create new friendships."
Many students expressed that they wanted to show up and network, instead of just staying home. 
"Santa Barbara is a small town," said City College student Sheridan Hadaway. "This is a way to make connections with other students around you."