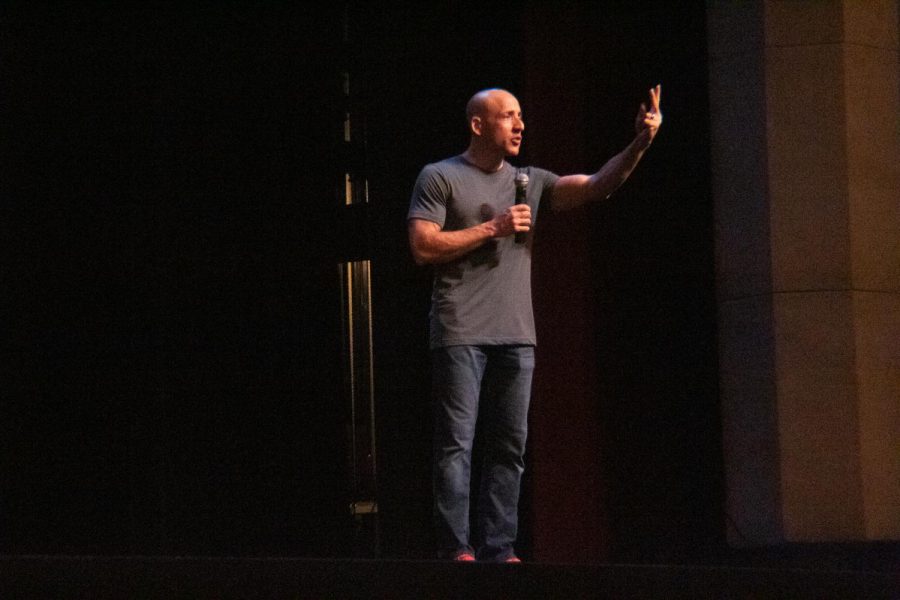 Jesus Villafranco Perez
The voices in his head told him he had to die, but the moment after Kevin Hines launched himself over the railing of the Golden Gate Bridge, he felt an overwhelming sense of regret. 
As one of 34 people who has survived jumping off the bride, and the only one to regain full physical ability, Hines made sharing his story and raising awareness for suicide his life's mission.
The Marjorie Luke Theatre was filled with City College students, high school students and community members Monday, who hung on his every word. 
"Thank you for being vulnerable," Hines said as he walked up to the stage. 
"'Are you ok? Is something wrong? Can I help you?' were the only things I wanted to hear when I stood by the bridge," he said.
Hines said he began hearing voices in the fourth grade, but as years passed the voices grew more sinister.
"I never wanted to die, but the voices in my head told me I had to," Hines said.
By the age of 19, Hines said he felt overwhelmed and broken.
"Here I am, in my room, writing my suicide note while my dad was in the other room, ready to help me," Hines said. 
After writing the note, Hines dropped out of his classes and got on a bus headed to the Golden Gate Bridge. He sat in the back crying, hoping someone would see his pain.
"I said to myself, 'no one cares,' even though everyone cared," he said.
The voices in his head got the best of him, and before he knew it he was plummetting towards the water.
"The millisecond my hand left the railing, I had instant regrets," Hines said. "I wanted to reach back."
19 out of the 25 survivors alive today recall having the same regret.
Hines survived the 220-foot fall, injuring only his back and his legs. He recalled feeling something brush up against him in the water.
"You've got to be kidding me," he said. "I didn't die from the fall, but now I'll get eaten by a shark."
What seemed to be a shark was later identified to be a sea lion by onlookers. Hines said he believed the creature kept him alive until the coast guard arrived.
Although the event is years behind him, Hines still struggles with his mental illness but now knows how to seek help.
"Do me a solid favor," he told the audience. "When you leave these doors, don't learn it the hard way, don't silence your pain, talk to someone.
"Our thoughts do not have to become our actions," Hines said, asking the audience to repeat after him.
City College had received a grant from the state that Student Health Services then used to invite Hines to speak on his experience.
The grant was created to help community colleges educate students on mental health, due to suicide being the second leading cause of death among people ages 15 to 24.
"Students have so much stress," said Laura Fariss, director of student health and wellness. "They need to feel safe and secure. You are not alone."
Hines started a YouTube channel that talks about suicide and getting help, hoping to provide more information on a topic that he feels is not properly addressed in the American education system. 
"Yesterday is history, tomorrow is a mystery, but today is the gorgeous gift we get to live," Hines said. "I love you, and I want you to stay."
If you or someone you know needs help, The National Suicide Prevention Lifeline provides 24/7 free and confidential support. Call 1-800-273-8255 or chat.