Professionals in gaming and animation offer advice at panel
The Career Center hosted an event Wednesday dedicated to exploring job opportunities in the world of gaming and animation.
The event was another installment of their "How I Made It" series this time exploring opportunities for students in the field of multimedia art.
Yifan Shao, a 3D artist for Age of Learning Inc., creates cute child-like animations for a children's education website. She explained the technical aspects of her job, and gave advice for students wondering how to be in a similar environment.
"It's important to be able to change, or just adapt, based on what a client tells you," she said, "Don't get too attached to your work because it will be changed."
Andrew Lindsay, a software engineer for NASA airborne science, creates tracking tools for planes and weather, to see how planes cargo fare in certain conditions.
He gave an example of a plane flying through a hurricane, showing how the hurricane appeared on the tracker, as well as the planes flight pattern through it. According to Lindsay, people can rent out the spaces for testing, putting their experiments on the plane and flying them through extreme conditions to see how they fare. The plane tracker even allows the user to look at the planes mechanics and see which parts of the plane are in use.
He then showed the original job listing for NASA.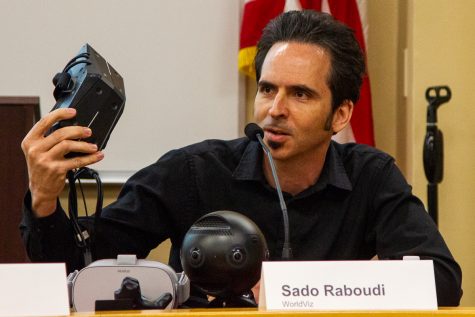 Sado Roboudi, a business development solutions architect for WorldViz gave a short presentation about the work he does for them. "[WorldViz] have been using VR technology since the early 90's", Raboudi said, showing slides of giant bulky headsets that used to cost upwards of $100,000, then showing the modern headsets that can be bought for a few hundred.
He said that his job has allowed him to travel all over the world, showcasing the headsets and watching the reactions of people who test them.
Gabe Baker, founder and CEO of Frame, is the only non-City College alumni. He began by giving a viewing of the alpha version of his website Frame which is a web-browser site that is virtual reality based so that users can interact with the browser in more ways.
Baker has also made more start-ups in the past, and goes on to explain how different it is to work for himself as opposed to a company.
"You're answering to shareholders, these are people that have invested in your company, that's a different kind of boss, and you feel really invested in a way that you wouldn't if you just worked for, like, Microsoft," he said.
He said that the path he has taken is not for everyone, but that "now is a good time," due to the task of getting money from investors and taking the first few steps aren't as difficult as they would have been 10 years ago.
Janna Mori, the Student Program Advisor, helps orchestrate these events in the hopes to answer students questions, and help qualm any fears about finding employment.
"The students are our motivators really," she said, "we hope to expand their horizons to different occupations they didn't know about before."
The event was also live-streamed for anyone who was unable to make it.