Luke Madenwald
Mark Sanders, archeologist and unconventional City College instructor, is transcending his research beyond the classroom in the form of historical medieval battle.
Five years into his career at City College teaching classes like archaeology and witchcraft, magic, and science of religion, Sanders' research merged with sport when he discovered armored combat. Historical medieval combat, more specifically, is a full contact sport in which participants compete in mock combat tournaments inspired by forms of historical battle in medieval Europe.
Founded by the Society for Creative Anachronism, armor combat combines full contact fighting with replicated weapons characteristic of the middle ages.
"Its fun, and it's for scientific purposes," Sanders said.
As a previous college dropout who later returned for a master's degree while fencing at Cardiff University in Wales, Sanders certainly took the road less traveled.
"There was no drive or motivating force," he said. "Only that kind of pan-american, cultural, economic drive to be able to get a degree and to get a job."
For several years he floundered, working odd jobs while his interests in history, hoplology and archeology gradually emerged into an interim of personal study. Hoplology is the study of human combative behavior and performance.
"As a Hoplologist, I have always been interested in reenactment, which is very fiddly," he said. "When you have reenactment in battle you provide a visual replication for people to observe. I like that."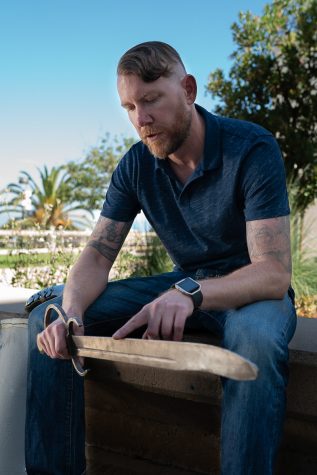 He said it is similar to "experimental reconstructive archeology," a term used by archeologists to generate and test hypotheses through replicating the lifeways of different ancient cultures.
Megan Crowell, one of Sanders' archeology students said that his knowledge about the history of the subject at times seems to be endless.
"He participates in these medieval battles for research," Crowell said. "Anytime anybody asks a question about it he knows it off the top of his head. He definitely knows what he is talking about."
Sanders engages in these battles with the International Medieval Combat Federation, the parent organization of the Armored Combat League. He acts as a Marshal (referee) in sanctioned events such as 'Duels Day' at the annual Santa Barbara French Festival. Additionally, he is a member of The Soldados, Santa Barbara's official team for combat training.
Sanders said that in these battles, competitors prepare to engage in duels and malay by assembling a "kit" comprised of personalized soft armor (formally known as a harness), weapons and shields with the help of a seamstress.
After getting used to using shields in battle, Sanders said he was perplexed by the lack of books about them, prompting him to write his own. The upcoming book, while still in development, is expected to release within the next few years and will likely be titled "The Shield in Europe: a Complete History."
Sanders will continue teaching his unconventional courses at City College and will be offering classes in physical anthropology, comparative world cultures archaeology, intro to anthropology, and witchcraft, magic, and science of religion in the Spring 2019 semester.