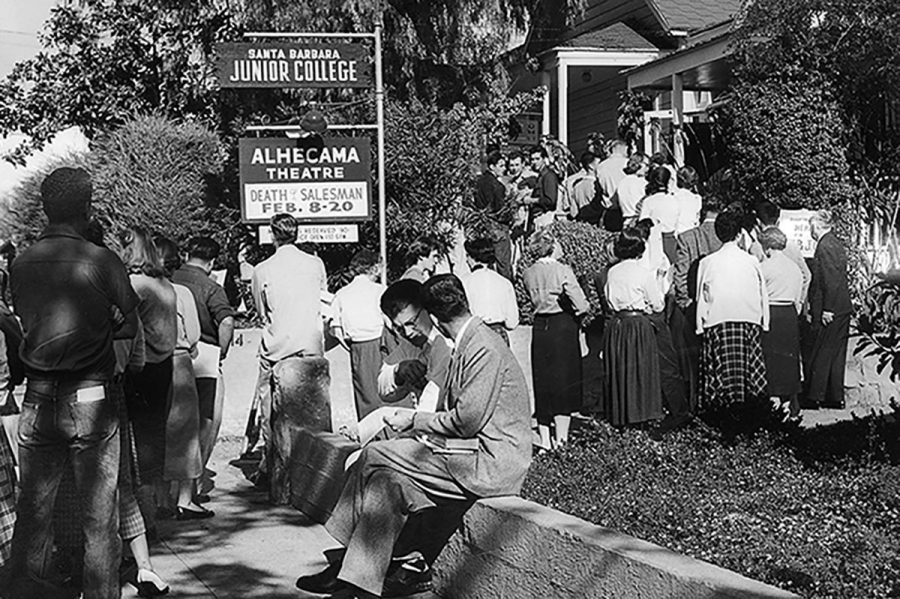 Courtesy of Sally Gill
According to his daughter, John O'Dea says he made at least two good decisions in his life. The first was to marry his wife Marjory, and the second was to accept a teaching position at what was then a small, 400-student college called Santa Barbara Junior College. The year was 1952.

On Monday John O'Dea turned 95 years old, and after his retirement over three decades ago,  City College celebrated his birthday by honoring him with a plaque in the Business-Communication Center.
The SBCC Legacy Project put the ceremony together, commemorating O'Dea for a 33-year career that helped build the business and accounting program at the college.  
Fred Hofmann, one of the legacy project's founding members, said O'Dea is one of the last living teachers who served on the faculty of the original college that was on Santa Barbara Street, where the Alhecama Theater is today.

O'Dea saw the college move campuses twice, first from downtown to the Riviera in 1955 and then four years later to the Mesa, where it's been ever since. He taught classes and served as the department chair before retiring from teaching in 1985.

The plaque unveiled on Monday also commemorates O'Dea's former colleagues, John Flynn and Merle Taylor, both retired business instructors. Hofmann said that the original ceremony was intended solely for O'Dea, but O'Dea insisted adamantly that Flynn and Taylor be honored alongside him.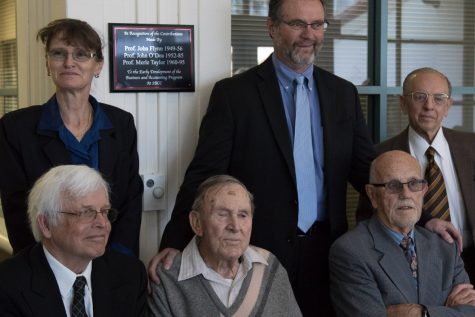 O'Dea's History

John O'Dea grew up in a small, insular town in Montana where he was one of a high school graduating class of six.  O'Dea worked as a railroad station master before enlisting in the army in 1943, working several domestic army-communication jobs.

After the army, O'Dea studied education at Central Washington College, got his master's degree at Leland Stanford University and then moved with his family to Santa Barbara. There, he started teaching at what was then known as Santa Barbara Junior College.
"I was teaching typing and business machines at the same time, so that time the computer was not available," he said in a legacy project interview. "I suppose if it were I should have probably been teaching that as well," he added with a chuckle.
By the time O'Dea started teaching at the college, it had been back up and running for five years after a 20-year hiatus from 1926 to 1946.  The roots of the college date back to 1909 when the Santa Barbara High School district started offering instruction for grades 13 and 14, according to a page on the SBCC Legacy Project website.

In 1952, the junior college was located on Santa Barbara street and its classrooms were reused portable army buildings. Around 400 students were enrolled, many of them returning war veterans, and the courses focused on business and social science/nursing, according to an account compiled by O'Dea's daughter.
The college grew and then moved to the Riviera in 1955, when O'Dea had begun teaching full time, and then again relocated to its current home on the mesa in 1959. That same year the campus changed its name to Santa Barbara City College.
The Legacy Project
SBCC Legacy Project started about five years ago and its goal has been to preserve the history of City College through first-person narratives like O'Dea's.
The project's website is still being developed, but so far it features memoirs, videos, and written accounts telling the story of the college since its inception in the early twentieth century.
"It's kind of like a nostalgia site for the college," said Kirsten Mathieson, City College Administrative Assistant and member of the legacy project committee.
In an interview, Hofmann stressed how important it is to memorialize people that have come through City College. One person he mentioned was former Channels faculty adviser Ray Canton, who Hofmann described as a cantankerous chain smoker, like "one of those journalists in an old movie."
"I mean he was literally the George Washington of The Channels and probably no current person on The Channels has ever heard of him," Hofmann said. "This website allows his memory to be preserved."

John O'Dea's Legacy
In 1975 The Channels wrote a story about how business education was becoming the College's most popular field of study, and it featured O'Dea, who was then in his 24th year of teaching.
In the story O'Dea explained why his department was experiencing a boom and commented on its growing pains, which were becoming apparent to him.
"Believe it or not, I had to turn away over 50 students this semester because there wasn't enough room for them," he said that year.
At Monday's ceremony, Cornelia Alsheimer-Barthel, the accounting department's current co-chair, thanked O'Dea and his colleagues for developing her department.
The department's other co-chair, Alfonso Vera-Graziano, was also at the ceremony. Graziano is originally from Mexico and was a student in one of O'Deas accounting classes.
"What I discovered about John O'Dea is that he didn't teach accounting," Vera-Graziano said. "He never taught me accounting. He taught me how to LEARN accounting."

Vera-Graziano thanked O'Dea in front of the crowd of family members and old friends.
"And in the style of my country, I have to give you a mexican hug," he said.

In the SBCC Legacy Project interview O'Dea reflected back on teaching."I think with every teacher, their favorite part is the students and what you can do for them." he said.

O'Dea said what he appreciates most is when his students come back and contact him.

"They come back and talk about going to the College and what they have made of their life because they were here and what other college they have attended, and that gives me great satisfaction."
O'Dea has two living children, Marian and Dennis, and still lives in Santa Barbara, a city he's called home for 65 years.