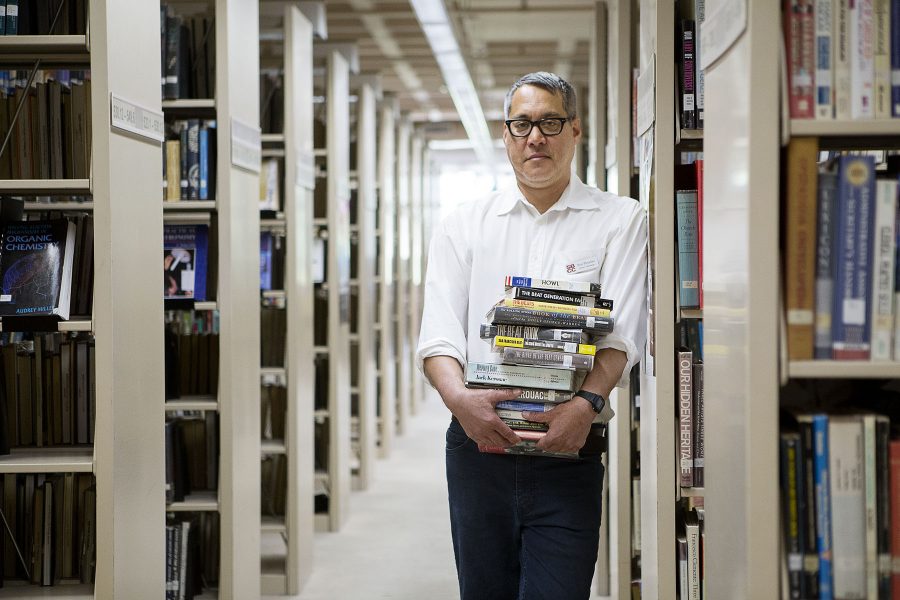 Kim Grossman
Last September, the Luria Library hired a new Library Technician who works full-time behind the front desk.
Paul Fleischer, 49, was hired last fall by Luria Library director, Elizabeth Bowman. Fleischer's job entails checking books in and out, dealing with student billing and complaints and helping students purchase and reserve books.  
"Paul is a great addition to the library team, as he brings good experience, insights and cares about student needs," said Bowman.
Fleischer said he felt honored when City College hired him.
"This school has such a great reputation," he said. "I mean, forget how beautiful the city of Santa Barbara is, the school itself is so appealing."
Fleischer was born in Santa Monica and lived there until age 13. He and his family then moved to Redlands, where he fell in love with art, mostly paper collages inspired by French artist Henri Matisse, and even won the Bank of America Arts Award in 1985.
Around 18, Fleischer fell in love with the Beat Generation writers like Allen Ginsberg, "Howl," and Jack Kerouac "On the Road," who inspired him to embark on similar road trips across America.
"It was life changing when I drove across the United States on my own," he said. "I met some characters here and there but mostly, I drove alone."
After Fleischer's arbitrary excursions he enrolled in Santa Monica City College and studied art and the history of jazz, then lived in Hollywood for 18 years working as a photo editor for Getty Images and Shooting Star. Eventually, he ended up at City College.
"I just love working with young students because I can relate to the position they are in," said Fleischer, who has also enjoyed meeting City College staff and faculty as well as students, and is making new friends among his fellow co-workers.
"Getting to spend time with Paul makes getting up and coming to work easy," said Loren Mindell, who works alongside Fleischer five days a week.
Recognizing the challenges students endure, Fleischer expressed the joy he feels when he sees students facing those challenges and aiming to better their lives. He said he is thankful to be a part of something that meaningful.
"I felt it would even be a bigger challenge for me to work at a school with such high standards," said Fleischer. "And I love getting the library in order before the doors open in the morning, and when the doors automatically unlock and the students come piling in."
Fleischer said he has found a home here in Santa Barbara and very much enjoys working at City College.
"I am hoping to be here a long time," he said. "I have no intentions of leaving, I absolutely love it here."