City College campus bookstore to host halloween bash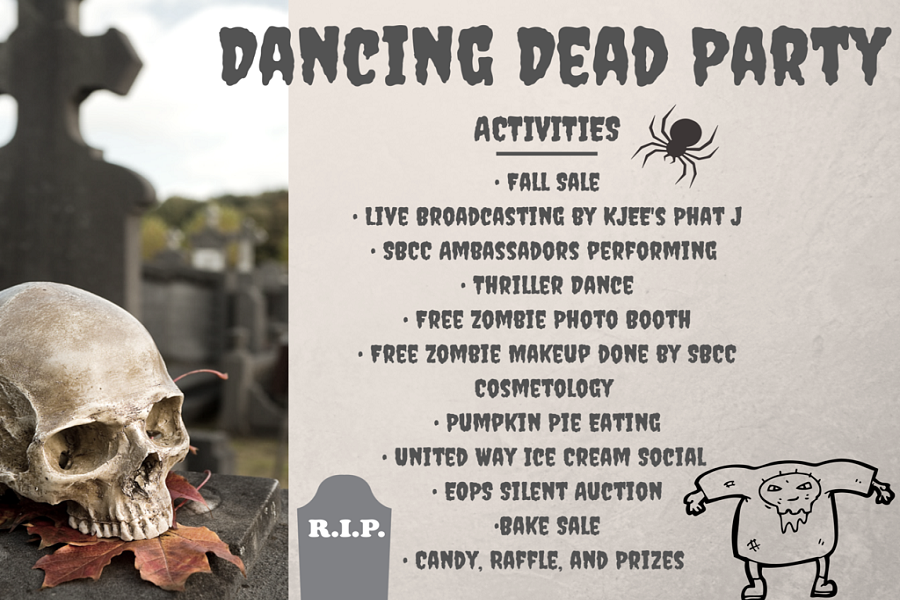 "The Dancing Dead Party," a City College Halloween celebration, will take place from 11 a.m. to 1 p.m. on Thursday, Oct. 30 at the Campus Bookstore.
The community collaborative event will feature various activities presented by City College departments and clubs as well as local organizations.
For musical entertainment, this event will feature music broadcasted live by KJEE's Phat J. The City College Ambassadors and Dance Club will be performing and teaching Michael Jackson's iconic "Thriller Dance" throughout the day.
The Campus Store's annual Fall sale will feature prize raffles and a percentage of the proceeds will go to "World Dance for Humanity," a program that aims to raise money for the Rwanda Education Fund.
There will be a chance for guests to take part in a pumpkin pie eating contest or fill up on baked goods sold by various clubs. As well as $1 ice cream provided by United Way with proceeds benefitting UW Literacy programs.
Cosmetology students will be offering free zombie makeovers and a zombie photo booth to document the events of the day.
Extended Opportunity Programs and Services (EOPS) will be having their third annual Dia de Los Muertos silent auction on display where potential buyers will have the chance to preview the art before bidding begins on Nov. 1. All proceeds from the auction will be donated to local schools in need.
This campus collaborative event is brought to the community by:
The Campus Bookstore
KJEE
SBCC ASG Senate
SBCC ambassadors
Dance Club
SBCC Cosmetology
Food Services
United Way
EOPS
Psychology Club
City College Connect
Common Honors Society Sigma Chi Eta
WISE Club