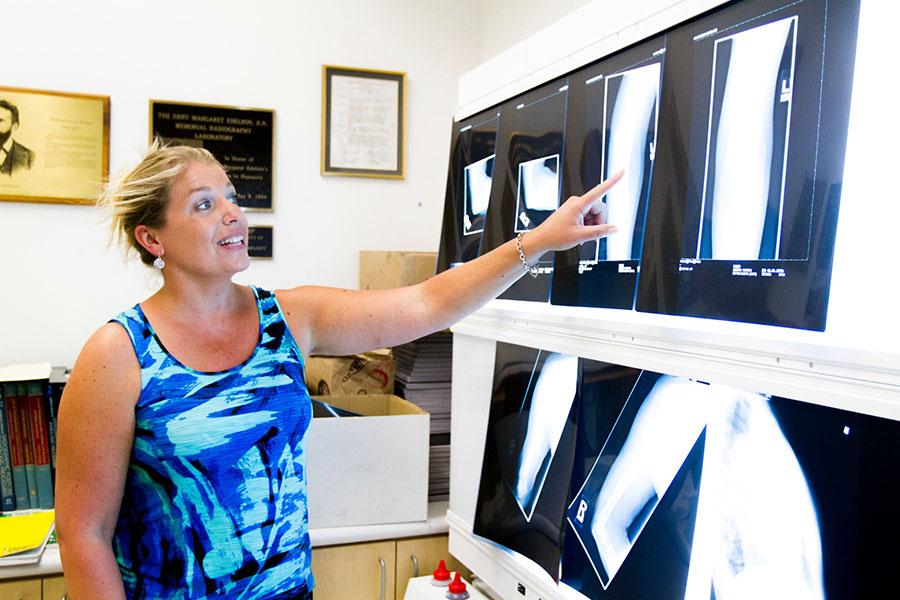 Elise Bredenberg
City College's search for an assistant professor for the Radiographic and Imaging Science position has finally ended.
Trudy Ryan, a Radiographic technologist and alumnus of City College, was selected by the school to fill the position over the summer.
Ryan was well equipped for her transition from student to instructor after some distinct experiences early on in her educational career.
"She exudes an increased comfort level, relating relevant personal experiences to the class," said co-instructor Bruce Oda. "It has been a true pleasure observing Trudy while co-teaching Patient Care."
Ryan attended City College's Radiographic and Imaging Sciences program in 1999 and excelled in all of her classes. As a result, she had the opportunity of taking an exclusive series of courses offered by the Biological Sciences department.
"I actually was invited into the cadaver program at school." Ryan said, referring to a program in which students examine and practice on human cadavers.
According to Ryan, the program was quite different from any other class she was taking. Quizzes were not based on muscles and tendons they saw on projector slides, but on the cadavers that the class examined.
"I remember I was dating my now-husband and would always smell like formaldehyde," said Ryan.
After graduating from City College in 2001, Ryan began working at the Goleta Valley Cottage Hospital. Two years later, she began her focus on imaging sciences working at the Santa Barbara Cottage Hospital, where her main focus was to perform CT scans, which combine x-ray angles in order to get a more in-depth view of the body.
"It's basically a 3D view of the human body," Ryan said. "X-ray is just a really cool thing".
Later, in 2006, Ryan began work at Digital Medical Imaging where she was introduced to more complex tools in modern imaging technology, such as Magnetic Resonance Imaging (MRI) scanners.
Ryan applied for the position she holds now as an instructor at City College in 2012. She gained a variety of experience in her field but at the time, she didn't get the job.
She reapplied the following year. After a lengthy interview process that lasted weeks, she landed the job.
Now, Ryan has begun teaching her first class, Patient Care, alongside Oda as part of the Radiographic and Imaging Sciences program.
"She seems like a great addition to the Radiography program staff. She is personable and seems to care about each of us individually," said student, Justin White.
Ryan is looking forward to her future at City College and now finds herself alongside those who taught her years ago. She plans on getting to know the program better through her role as an instructor.