Special Olympics holds fifth annual competition at La Playa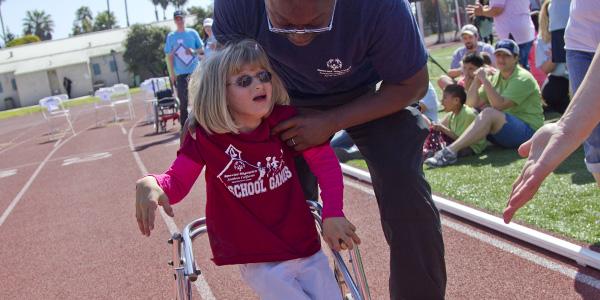 A boy in leg braces reaches the finish line in the 10-meter assisted walk competition. He doesn't win the race, but a huge smile on his face suggests the opposite.
Special Olympics Santa Barbara held its fifth annual School Games competitions for Santa Barbara County kids with special needs, Friday, April 26, at La Playa Stadium. One of the ceremony openers was Helene Schneider, mayor of Santa Barbara.
More than 200 special education students from elementary schools, middle schools and high schools participated in the event. Competitions such as assisted walks, wheelchair races, softball throw, tennis ball throw and long jump were just a few.
"The vibe is pure joy," said Sara Spataro, regional director of the Special Olympics. "You're going to have a smile on your face wherever you go. It's a great moment for us."
Rachel Gloger, former coach for the Special Olympics in Oregon, attended the event with her 7 year-old daughter, Ruby. She competed in several races and field events.
"She's done the 25-meter run and gold medaled. [She] did the standing long jump and then she did the tennis throw," said Gloger. "I love it, it's just so positive."
The event went from 9.15 a.m. to 2 p.m. More than 12 companies and members of the community volunteered to help out. Santa Barbara law enforcement officers handed out the gold, silver and bronze medals.
Doug Squries, senior manager at Citrix, volunteered at the event for the second year in a row.
"I've done a lot of volunteer events through our company and coming to this one is by far one of the most rewarding," said Squries.
Spataro said the kids are proud of themselves for the work they're able to do.
"[What] inspires you to get involved is to see our athletes just perform at their best and give everybody a chance to be included in sports in our community," she said. "That's what's really important to me."