Struggling artist to bring back the 'Rhythm and Poetry' in rap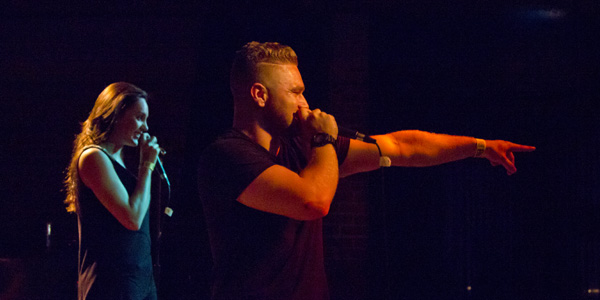 A four-year-old boy told his mother he wanted to become a "music man and make hot music." Now, 17 years later, that same boy performed his first solo show, opening for hip-hop duo, The Grouch & Eligh.
City College music major Matthew Friedman, aka Matty Free, 21, performed an a cappella poem and five previously unheard rap songs, Tuesday, April 2 at club SoHo in downtown Santa Barbara.
"This is the beginning," he said. "I've waited a long time. I'm ready now."
Growing up in Portland, Oregon, Friedman was influenced by stereotypical rap lyrics about drugs, alcohol, girls and guns. He took after the lifestyles of successful rappers, which led to a self-destructive way of living.
An arrest at 17, costing him and his parents $25,000 of college savings, led to his move to Santa Barbara. With some help from a girl he wants to keep anonymous, he turned his anger into creativity.
"I skated through school, cheated, doing whatever I needed to do to get by. I had nothing to be proud of really," said Friedman. "I got this feeling that I need to do something new… so I moved out here"
After knocking on what seemed to be a door to an empty house, a short cropped, smiling young man opened, apologized for the wait and said, "I was just working on this beat, you need to hear it." Within seconds, a private music show played out in Friedman's bedroom. A mellow, yet fast-paced rap called "Days like this" was flowing, with a palpable energy.
Friedman's goal is to bring back the real in rap, meaning the acronym it stands for – Rhythm and Poetry. His songs are about struggles he has overcome as well as societal issues, which, Matty Free says, has been lost within today's hip-hop culture in which many artists just rap about nonsense.
"I got syrup in my cup, feeling up her butt, yo she's a slut, but she sucks my nuts," he jokingly rhymed and laughed, but then became serious. "I don't consider poetry to be bragging to everyone about what you have or about how cool you are. It is exactly what it is, there's no ambiguity to it."
Friedman is enrolled in music adjunct faculty Dominic Camardella's audio production and sound recording class.
"When he was little, he had very little musical training, but he's like a sponge," said Camardella, "super motivated and trying to expose himself to anything and everything he can, as effectively as he can."
But life wasn't always blissful poetry for Friedman. One of many beer runs went out of control when he was 17, involving exploding beer cans and a fight between a cashier and one of his closest friends, at a QFC store during a party in Washington State.
He said the cashier had a seizure and Friedman was arrested. He was looking at two years in jail but thanks to a good lawyer who cost him his college fund, it ended with 50 hours of community service and six months of probation. To him, that was an eye-opening experience.
"After that I went to juvenile hall for 10 days," he said. "Then I started to do pretty well for myself and just kept that lifestyle."
His real transformation didn't happen until he came to City College and met his former girlfriend, he said. She made him become a better man by showing compassion, care and empathy.
"I don't think so much about myself anymore," he said. "I understand people better now I think. I am who I am and that's what makes me arrive, I guess."
A change is not just noticed in his personality, but in his music as well. Before, Friedman would struggle to make up lines and rhymes that fit together.
"Now, I just go," he said. "I just write, I don't stop and punchlines get in there somehow. I don't know how, but they do."
Finding himself made him ready for the stage. After his performance at SoHo, Friedman's next step is the annual Music Now! concert at City College Friday, April 26 in the Garvin Theatre.
"His first semester, he thought he had more going on than he did," said Camardella. "This semester… he started to realize you don't just wake up one day and become a great producer or rapper, you have to work at it."