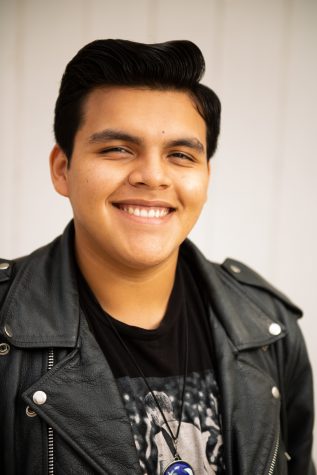 When I was a kid, my childhood heroes weren't Tony Hawk or Captain Jack Sparrow. Instead I looked up to a character by the name of Marty McFly.
He is the epitome of cool.
Rides a skateboard? Check. Plays guitar? Check. Best friends with a retired mad scientist who builds a time machine out of a DeLorean? Also check.
Story continues below advertisement
The first time I saw the 1985 seminal smash-hit "Back to the Future" was at Santa Barbara's Stearns Wharf in 2009. It was during Christmastime, and the Wharf would host free family movie nights to watch on the pier.
Droves of families would bring their lawn chairs to view films on the large projector, protecting themselves with blankets against the chilly winter breeze that would cruise through the crowd with ocean waves crashing in the background. The smell of popcorn and sea breeze was something unparalleled and remains a core memory.
The film opens, fittingly, with a wall full of clocks. The camera then pans to reveal a complex assortment of gadgets and inventions throughout the scientist's living space. It captured my curiosity instantly.
As the scene continues, McFly enters Doc Brown's garage. Cut to a teenage rocker powering on an eight-foot-tall amp to full power and overdrive, with the light glistening from his guitar pick. He prepares to strike a chord — and once he does — BAM! McFly is sent flying across the room, crashing into a shelf. As he emerges from the pile of boxes, papers and books, he only has one thing to say, "Woah . . . rock and roll." That's when the film had my attention.
I would argue that "Back to the Future" is the perfect film.
Realistically, no film is perfect because art is subjective, but "Back to the Future" really has it all. The film is a comedy at its core, but has elements of action and adventure, science fiction, romance and ultimately revolves around the peculiarly wholesome friendship between a teenager and a rejected scientist.
As the years followed from the first time I viewed the movie, I would watch it and the two sequels repeatedly whenever it was played on TV. I remember buying the trilogy on iTunes in middle school and viewing it well over 30 times on an iPhone 5s. If there was a long car ride or a flight, I would rewatch the "Back to the Future" trilogy. Even to this day I'm still not tired of these movies, and they always provide a sense of comfort when I do revisit them.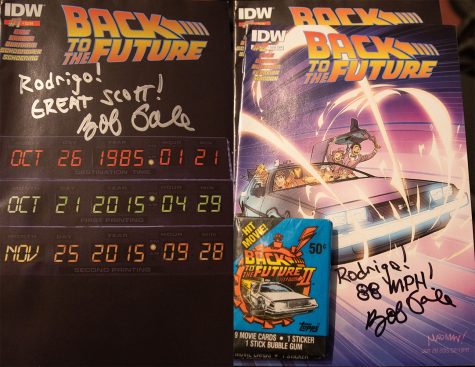 During the 30th anniversary of the original film in December 2015 I had the pleasure of meeting writer Bob Gale at a fan event held at Metro Entertainment in downtown Santa Barbara. Director Robert Zemeckis was unable to make an appearance due to conflicting schedules since it was close to Comic-Con.
At the event fans could meet and take pictures with Gale, and were sent home with "Back to the Future" comic books and a couple of packs of movie cards from "Back to the Future Part II" that included a stick of bubble gum from 1989. Gale was courteous with everyone he interacted with and even recreated the iconic pose Michael J. Fox did on the poster for each picture.
My love for the film was so apparent that one of my closest friends bought me the soundtrack on vinyl just as I was starting to collect records. It pairs well with the original 1985 poster I found at the Santa Barbara High School Flea Market that's hanging in my room.
Although the films may not be from my era I get a sense of nostalgia when watching them, which I'm sure was Zemeckis' intention, since the first film is essentially nostalgia for the 1950s.
However its sharp humor, entertaining action scenes and heartwarming story are what makes this movie so beloved, and is why "Back to the Future" will always stand the test of time.