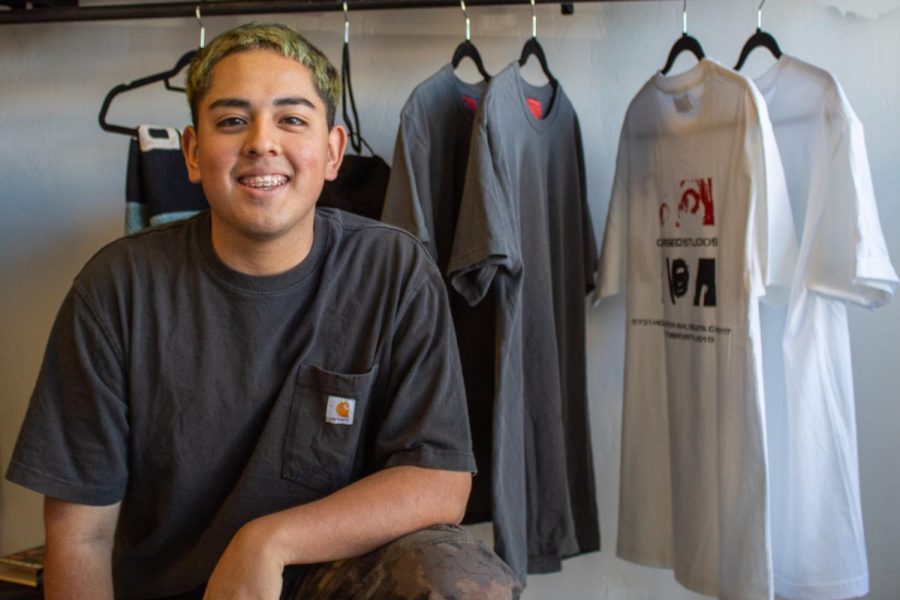 Jesus Villafranco Perez
Fast cars, loud engines, squealing tires. That's how City College student Angelo Falcon spent most of his time before pursuing his love of fashion and clothing design. 
Spending hours on end at car shows shooting cinematics may seem like a dream come true for most film majors, but the lifestyle left more to be desired for Falcon. 
Falcon had always been interested in clothing since he was young. He got his start in seventh grade and has been creating t-shirt designs by hand ever since. 
So, when his three-year passion for car filmmaking burned out, he returned to the world of clothes. 
"It's all hand made, it's all me, it's all in my garage," Falcon said. 
Growing up, he never thought of clothing design as a viable career path. He had tried creating clothing lines in the past, only to shut them down, unhappy with the direction they were heading each time. 
When it came time to launch his fifth iteration Cursed Studios, Falcon knew he wanted to do something different. 
"Before, I wasn't really in charge of myself," he said. "Now, I'm thinking more about designing clothes that I would wear." 
Falcon launched Cursed Studios in September 2018 with that goal in mind. The designs are pulled straight from pop-culture and heavily influenced by fashion trends from the 1990s and 2000s. 
He gets inspiration from watching horror movies, in particular, going along with the studio's name.
His clothing line has amassed a large following over the past year, with its Instagram account nearing 2,000 followers. 
"I think Cursed [Studios] is such a successful brand because of how much Angelo cares about the quality of his merchandise over profit," said Ethan Clark, a model for Cursed Studios. "His clothing is like an art form." 
Eventually, Falcon plans to move the business to Los Angeles, a dream realized with help from the love and support of his family.
"I never thought it was important until I showed them," Falcon remarked. "Having supportive parents is a big help."
Born and raised in Santa Barbara, Falcon's family never had much money.
"My parents are both immigrants," he said. "I think seeing them work so hard… my work ethic reflects that." 
As a second-generation child, he picked up English through watching movies at home with his brother, an aspect he heavily incorporates into his art today. 
While attending San Marcos High School, his love for clothing design took off, with help from his graphics teacher Richard Wyckoff. 
"At home, we didn't have any computers or printers," Falcon said. Along with extra mentorship, Wyckoff allowed Falcon to design and print out his artwork he would later use on his t-shirts. 
He would often stay after class, getting extra pointers and notes.
After graduation, Falcon was able to hone his craft. 
He began to sew and screen-print his designs onto t-shirts, building a base for what would become Cursed Studios. 
Now, Falcon releases new products monthly and hosts local pop-up shops around town. 
He's collaborated with musicians and artists like Xavier Wulf, Cuco and MoneyPosseTyler. 
"Cursed Studios" is growing at a rate that Falcon feels content with, and for now, he plans to keep doing what he does best- design. 
"I'm moving forward at my own pace," he said. "If you build something too fast, it's gonna crash."