Quire of Voyces to honor female composers at St. Anthony's
City College's 28-piece vocal ensemble, Quire of Voyces, will honor female composers with back to back performances this weekend at St. Anthony's Chapel downtown.
Since 1993, the a capella group founded by Nathan Kreitzer has built up a diverse catalog that blends music as far back as the Renaissance to modern 20th century compositions.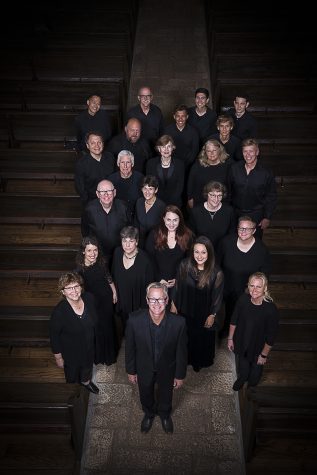 Though it's a City College ensemble, Quire of Voyces is primarily made up of returning adult students with an average of ten years or more of professional experience. Auditions for the choir are held every year, but it is difficult for young students to join, Kreitzer said.
Their performance this weekend will be featuring a rare American premiere of Imogen Holst's 1927 piece "Mass In A Minor," celebrating the daughter of the famous composer Gustav Holst.
"The Holst piece was the one that took some sleuthing to find," Kreitzer said. "I had to locate the director of Claire College in Oxford, England to find a score of the piece we could use for the performance. I am sure it has never been performed in the U.S."
The choir's program will also include "Ring About, Wild Bells," an original by UCSB professor and longtime composer Emma Lou Diemer. The piece will be debuting this weekend.

Timeless and outstanding works by female composers Susan LaBarr, Alice Parker, Tina Andersson, Williametta Spencer, Maria Löfberg, Hildegard von Bingen and Phyllis Zimmerman will also be honored.
Santa Barbara's historic 1880s St. Anthony's Chapel will be hosting the tribute performance.
"Arguably the best acoustics in at least a hundred mile radius," Kreitzer said about the chapel. "It's an incredible place. The inside looks like a 15th-century French cathedral."
The performance will be at 7 p.m. on Saturday, May 5, and at 3 p.m. on Sunday, May 6.
General admission tickets for the performances are $20 and $15 for students and seniors.