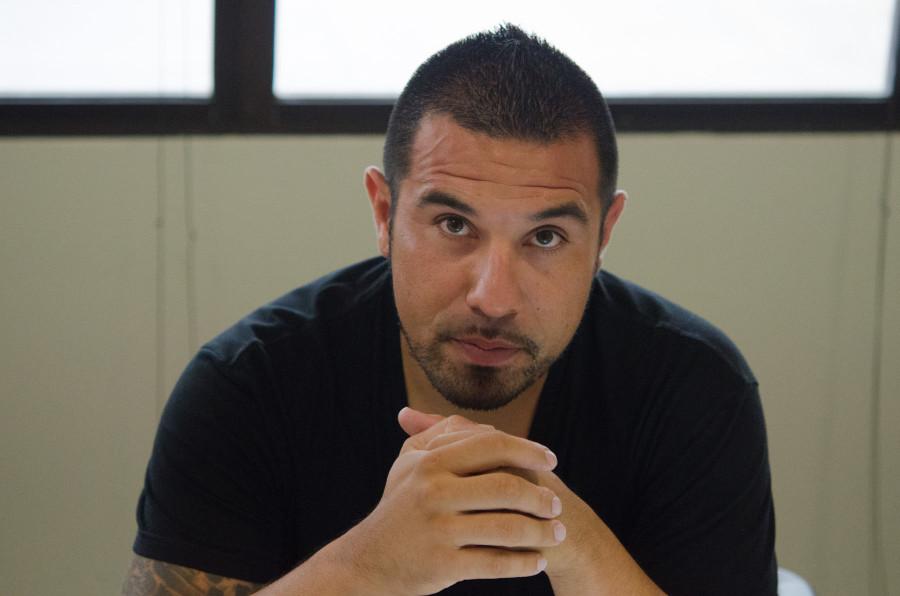 Jazmyne Cushenberry
City College philosophy instructor Manuel Raya has come a long way from a childhood defined by street violence and crime, to a highly influential instructor and surfing advocate.
Prior to his teaching career, he spent much of his adolescence involved in a Santa Barbara gang, dedicated to becoming the best gangster out there.
"I wanted to go to prison," said Raya. "I wanted to be the best gangster out there."
It wasn't until his mother became terminally ill that Raya truly wanted to make a change in the right direction. He overcame his rough past by learning how to surf and taking philosophy courses at City College after being released from prison at the age of 19.
In July of 2011, Raya was featured on ESPN's E:60 for his Turf 2 Surf program with co-founder and local tattoo artist, JJ Ortiz.
The program targeted teenage boys in rough Santa Barbara neighborhoods that were experiencing similar issues that they once did. By teaching them to surf, Raya and Ortiz significantly helped change the violent mindsets of these young men.
"Turf 2 Surf really changed my life," said Jesus Reyes, former program participant and current City College student.
Raya has not sponsored the program for the past three years; however, he is now focusing his attention towards the campus philosophy club. The club has been combined with the political science club this semester on Thursdays at 4:30 p.m. in LRC 108.
Raya and Joe Martorana, political science club instructor, combined their clubs this semester to look at both economical and philosophical aspects of their discussions. The club's discussions this semester focus on the different points of view of the 2016 presidential candidates on social issues, such as gun rights and immigration.
These controversial issues often lead to the topic of war, which is a topic that strikes passion in Raya.
"We tend to see ourselves as an individualized nation," said Raya. "We need to understand the interconnection of the world."
During their discussions, the club refers to the ideas of philosophers who focus on political ethics such as Iris Marion Young and Pierre Hadot to discuss whether or not it should be in the role of the government to protect the people through rules.
According to Raya, questioning government roles is one of the main components of philosophy.
"We try to fight terrorists like they're the worst thing in the world," said Raya. "If you want to protect people, then protect them. Don't make up a boogieman to replace the actual problem."
Throughout his seven years instructing at City College, Raya's passion and charisma have become a key source to engaging students and club members in his lectures.
Former student of Raya's Critical Thinking Course, Nikki Romming, describes him as "intense, driven and overall amazing."
"He's worked really hard and I think it's really paid off," said Romming. "He does a lot of outreach to everyone, he's going to do some great things."
Along with being heavily involved on City College's campus, Raya is also instructing courses in the philosophy department at Antioch University this semester. He is excited to introduce his new course, Social Movement: its leaders and people, which will be offered at Antioch in upcoming semesters.
He is enjoying teaching at Antioch University and looks forward to teaching his newly developed course in the upcoming semesters.