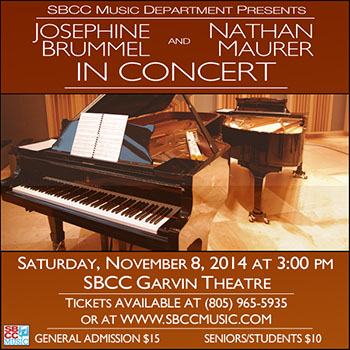 Courtesy Art
It was an enchanting afternoon for a piano duo held on Saturday, Nov. 8 in the Garvin Theatre.
It was the first piano duo ever held in the Theatre, and it was indeed a dazzling performance.
Adjunct City College music instructor, Josephine Brummel and City College music accompanist Nathan Maurer joined the stage together to perform works from various classic composers.
The two pianos were gracefully placed facing each other in center stage, ready to play. Brummel and Maurer together stepped out on stage to begin the inaugural event.
Both were dressed to impress, Maurer sported a classy black tuxedo and Brummel wore a lovely sky blue dress with sparkles on the neckline.
They began their performance with composer Sergei Rachmaninoff's "Second Suite" for two pianos.
It was absolutely brilliant, the two complemented each other marvelously and had such passion in each keystroke.
The way they both moved their fingers so effortlessly along the keys, making it look easy.
They also performed "Three Preludes" composed by George Gershwin, which was originally written as a piano solo – but crafted into a duo for the Garvin show.
These short preludes were not only energetic but also exciting. It had character, which made for a lively performance, that told a story.
It was like Brummel and Maurer were having a sophisticated conversation like no other.
The show sold out and had an audience of all ages.
In addition to Rachmaninoff and Gershwin, they performed several other works from composer Maurice Ravel, Astor Piazzolla, Robert Schumann, and Dimitri Shostakovich.
As the show came to an end, the audience shot up in a well-deserved standing ovation.
The two put on an excellent show, and should not have been missed. It was impressive to watch the two work together, and hit every note – they worked especially well together.
If you would like to catch the next performance in the Harold Dunn Memorial Concert Series at City College, check out "Music Now," which features students performing a wide variety of genres – in the Garvin Theatre, Friday, Nov. 14 at 7 p.m. Admission prices for these events are the same, excluding "Quire of Voices" and events at SOhO.