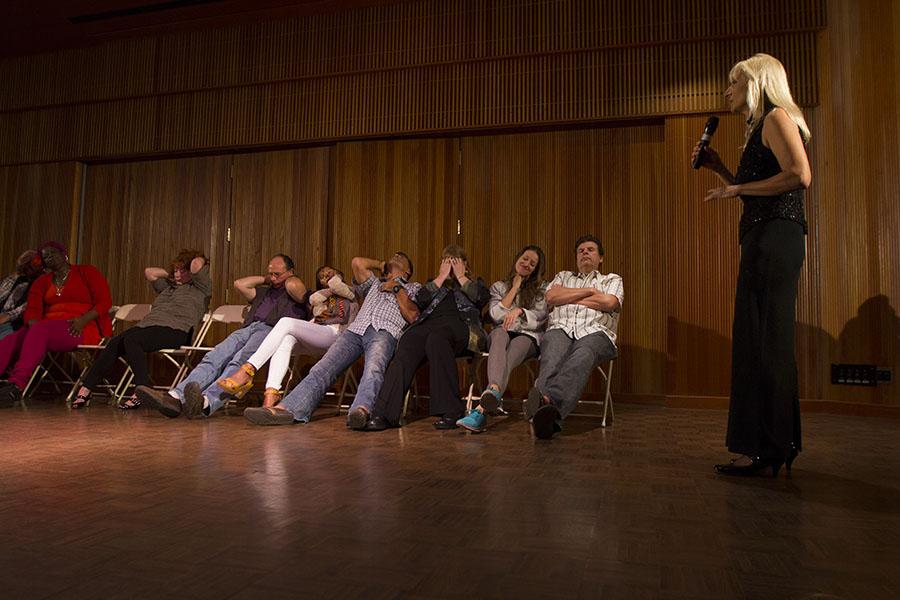 Nicole Haun
Dazzling professional hypnotist, Nancy Seagal, performed a hilarious comedy hypnosis show on Friday, Feb. 21, at the Fé Bland Forum.
The show benefitted the FoodBank of Santa Barbara by giving them 10 percent of the proceeds.
"In the battle between willpower and imagination, imagination always wins," Seagal said.
Seagal, who is an author, TV host, and certified consulting hypnotist since 1996, leads one-on-one sessions and loves performing for large groups. She is indeed the real deal.
"I love the energy that it brings. There's nothing like a live audience and laughter to make people feel good, take their stress and worries away, at least for a while," Seagal said.
Seagal, who suffered for 12 years with mercury poisoning, found herself in a wheelchair and paralyzed due to the illness. Hypnosis was one of the ways she overcame this disease.
She hopes with her several published books, website and performances, to bring awareness about mercury poisoning and help people overcome their struggles using hypnosis.
The stage was occupied with empty chairs and she reassured the crowd that no one would be embarrassed if they volunteered to be hypnotized. She welcomed the volunteers up on stage, and 12 enthusiastic individuals rushed to sit in the chairs.
The process of getting hypnotized is an alteration of one's consciousness and reacts highly to the hypnotist's suggestions and directions.
She began by asking the 12 volunteers to open their minds, relax, ease their bodies and focus on the sound of her voice.
Seagal spoke in a calm tone, with soothing music playing in the background she told her volunteers to start "daydreaming with [her]."
Once the volunteers were relaxed enough, she walked up to each one, put her hand on their shoulder and said, "you are now a rag doll."
Their bodies would slump into the chair as soon as her hand touched them.
Throughout the show, Seagal told her volunteers a series of funny scenarios such as, "your belly button is gone," "you are a body builder, strut your stuff," and "you just drank giggle juice."
One volunteer searched for her belly button, but it was nowhere to be found. She said to Seagal, "I promise, it's here somewhere, maybe under this body suit I'm wearing."
The audience burst out laughing and had a fantastic time watching the hypnotist do what she does best.
When the bodybuilders started strutting their stuff on stage, Gale Krupica, one of the volunteers, ran to the front and showed off her guns of steel.
"It was a fun sleep, but felt tired and almost woozy afterwards," said Roxy Angel Von Straussenburg, a volunteer. "I wasn't thinking that I was going to be hypnotized."
All were willing participants, but knew little of what they were actually doing.
"I had an open mind the whole time, I felt very 'floaty'," Krupica said.
The show had a great turn out, with about 80 people in attendance.
"The feedback was very positive and I'm pleased about it. Audience members came up to me afterwards and told me they loved it," Seagal said. "The great thing about this show is no two shows are ever alike… I never know what the volunteers say or do."