Acting Out presents: Quire of Voyces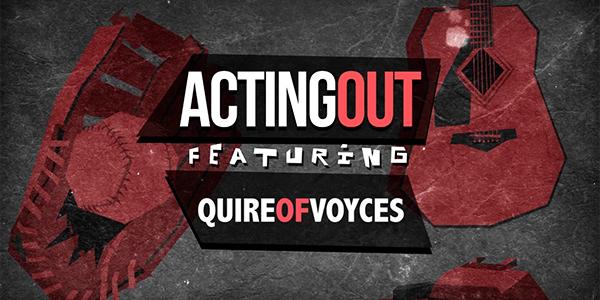 Creating elegant music for nearly two decades, The Santa Barbara Quire of Voyces thrives as an established choral ensemble.
"Quire of Voyces has been known to be a really prominent figure in the choral community," said City College student and current choir member, Brandon Thibeault.
At 27-years-old, Thibeault is the youngest member of the ensemble. He was asked to join the choir after receiving private voice lessons from Nathan Kreitzer, the Quire of Voices director and City College's vocal teacher.
"It has been a great opportunity for me to improve my skills as a vocalist," Thibeault said. "I look forward to our rehearsals and really love singing with them."
Kreitzer created the Quire of Voyces in 1993 to re-experience the a cappella choral music of the renaissance and modern age. In 1995 Kreitzer began teaching at City College and eventually took the position as director of choral and vocal activities. The two would eventually intertwine.
Kreitzer expects high standards from each of the choir members.
"The group is rather difficult to join," Kreitzer said. "Most members have been singing in choirs for many years and are required to be superb musicians and good sight readers."
Ann Burridge is one of the group's longest standing members. She joined in the spring of 1994.
"I love singing a cappella music because I can just sink into the harmonies," said Burridge."My favorite part of choir is the emotion that goes into it. I memorize my music and just watch the conducting. The result often brings tears to my eyes."
The ensemble generally has 28 members, however auditions are held in August for anyone interested in joining.
The Quire of Voyces preforms pieces from many different composers and currently feature new works from a composer in residence. In 2008, Composer in Residence, Michael Eglin was recruited to create different pieces for the group to sing.
"The group comes to me every semester to commission a new piece. I compose carols, anthems, and sometimes larger works for them," Eglin said. "It is a pleasure to be a part of such an astounding group."
The choir will be celebrating their 20th anniversary this coming year. Extra events have been planned on top their regular concerts in honor.
"We've been asked to perform at the American Choral Directors Association Conference in Santa Barbara in February," said Kreitzer. "We are also planning a special event in March at the Santa Barbara Winery along with the Madonnari Festival in May."
They will also be releasing a new CD on Nov. 7, titled "Christmas with the Quire of Voyces." This spring the group will begin fundraising for plans to tour Scotland in 2015.
With many events rapidly approaching, the group meets every Monday at 7 p.m. for rehearsal in the Music and Drama Building's choir room. Times for the Quire of Voyces concerts can be found on the music department's homepage.