A remodeled garage in Goleta is where a newly hired art instructor works on his art inspired by the Middle Ages and "different body odors mingling."
In Feb. 2013, Christopher Ulivo, the instructor of painting and 2D design, will feature his art in his exhibition "Jeepers Creepers" in the Atkinson Gallery at City College.
"He's a very dynamic teacher and person. He's got a lot of experience and he's hilarious," said Stephanie Dotson, chair of the art department. "Every time I see him he gives me something new and random, [like] a plastic dinosaur or a little stop sign."
His paintings are inspired by inviting famous historical figures (dead or alive) to a hypothetical dinner party and placing them in an unusual scene.
Story continues below advertisement
"This is Richard Nixon in 1942 during the war in Hawaii shooting a robot," Ulivo said, pointing to the painting "Nixon '42." "See, that would be a weird dinner party."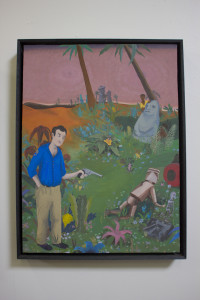 For paint, he uses egg tempera, a long-lasting paint popular in the Middle Ages and in the 1930's, usually mixed together with egg, glue, honey, water and milk.
"The colors usually don't fade," he said. "It seems like it wouldn't work but they last forever."
In April, Ulivo moved from his hometown Brooklyn, New York when he was offered his title at City College.
"There's a different mentality here," he said. "I think it has something to do with the weather. They follow their bliss; I like it."
In 1995, Ulivo attended Tyler School of Art at Temple University in Philadelphia, Pennsylvania. After graduation, he spent a summer teaching in Rome before returning Brooklyn.
Ulivo has taught at a range of art schools, from private schools to a state school in upstate New York. When offered the job at City College, he said it was time for something else.
In Ulivo's studio in Goleta, a lot of his artwork is hanging on the walls, but he isn't quite ready for the exhibition next semester.
"California will influence me in some way, and I have no idea how," he said. "Actually, I hope I will have no idea what will be in the show until February, that would be my highest hope."